Mycobacterium tuberculosis -triggered Hippo pathway orchestrates CXCL1/2 expression to modulate host immune responses
ABSTRACT
---
Mycobacterium tuberculosis (Mtb) pathogenesis encompasses a plethora of finely regulated alterations within the host which eventually coin the outcome of infection. Chemokines are important components in directing immune cell recruitment to the site of infection, and shaping the disease progression. Here, we demonstrate that Hippo (mammalian sterile 20–like 1 and 2 kinases, MST1/2, in mammals), is activated during mycobacterial infection in a toll-like receptor (TLR) 2-interleukin receptor-1 associated kinases (IRAK1/4)-dependent manner. Mtb-triggered Hippo signaling modulates the expression and secretion of chemokines (CXCL1 and CXCL2); as silencing MST1/2 compromised the ability of Mtb to furnish the same. Further insight into the mechanism of Hippo-mediated regulation of chemokines revealed the role for a non-canonical Hippo effector interferon (IFN) regulatory factor (IRF) 3 in the process and marked the effect to be independent of LATS1. Alongside their ability to guide directed recruitment of immune cells, we have uncovered a paracrine role for Hippo-mediated secretion of CXCL1 and CXCL2 in the production of anti-microbial peptides (beta-defensins), iNOS, NOX2 and pro-inflammatory molecules during mycobacterial infection of the host. This study highlights the involvement of TLR2-IRAK1/4-MST1/2-IRF3 axis in Mtb-triggered modulation of chemokines and identifies Hippo signaling as a novel regulator of host-mycobacterial interactions.
No MeSH data available.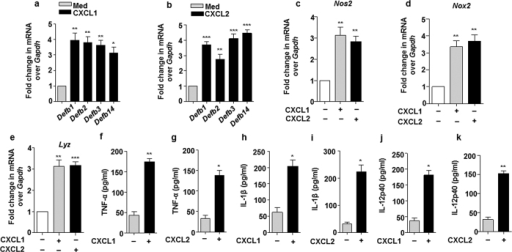 © Copyright Policy - open-access
License
getmorefigures.php?uid=PMC5121601&req=5
Mentions: Chemokines are widely known for their ability to direct the recruitment of immune cells towards the site of immunity breach. However, amassing evidences suggest that they may also arm such immune cells with anti-microbial capacities to further enhance their efficacy to contain the immune insult5253. In this regard, it was intriguing to explore the capacity of mycobacteria-induced CXCL1 and CXCL2 in armoring neighboring macrophages with innate immune defenses like anti-microbial peptides (AMPs) such as beta-defensins (Defb) and inflammatory mediators including TNF-α, IL-1β, IL-12p40, iNOS (inducible nitric oxide synthase), NOX (NADPH oxidase) and LYZ (Lysozyme). Interestingly, treatment of macrophages with recombinant CXCL1 or CXCL2 induced the expression of Defb (Fig. 8a,b), Nos2 (Fig. 8c), Nox2 (Fig. 8d), Lyz (Fig. 8e) and proinflammatory cytokines (Fig. 8f–k). Having assessed the role for CXCL1 and CXCL2 in vitro, in regulating the host innate immune responses; the in vivo requirements of these chemokines in modulating the concerned host innate immune responses during mycobacterial infection was envisaged. To this end, Mtb-induced secretory CXCL1 and CXCL2 were neutralized by utilizing respective neutralizing antibodies. Although, neutralization of CXCL1 and CXCL2 did not completely abolish the Mtb-induced production of innate immune regulators; however, a significant reduction in the production of proinflammatory cytokines (Fig. 9a–c), Defb (Fig 9d–f), and Nos2, Nox2, Lyz (Fig. 9g–i) was observed in lymph node, lung and spleen of Mtb-infected mice neutralized for CXCL1 and CXCL2. These results clearly demonstrate that CXCL1 and CXCL2 are one of the important regulators of host innate immune responses during mycobacterial infection.