Netrin-1-Induced Stem Cell Bioactivity Contributes to the Regeneration of Injured Tissues via the Lipid Raft-Dependent Integrin α 6 β 4 Signaling Pathway
ABSTRACT
---
Netrin-1 (Ntn-1) is a multifunctional neuronal signaling molecule; however, its physiological significance, which improves the tissue-regeneration capacity of stem cells, has not been characterized. In the present study, we investigate the mechanism by which Ntn-1 promotes the proliferation of hUCB-MSCs with regard to the regeneration of injured tissues. We found that Ntn-1 induces the proliferation of hUCB-MSCs mainly via Inα6β4 coupled with c-Src. Ntn-1 induced the recruitment of NADPH oxidases and Rac1 into membrane lipid rafts to facilitate ROS production. The Inα6β4 signaling of Ntn-1 through ROS production is uniquely mediated by the activation of SP1 for cell cycle progression and the transcriptional occupancy of SP1 on the VEGF promoter. Moreover, Ntn-1 has the ability to induce the F-actin reorganization of hUCB-MSCs via the Inα6β4 signaling pathway. In an in vivo model, transplantation of hUCB-MSCs pre-treated with Ntn-1 enhanced the skin wound healing process, where relatively more angiogenesis was detected. The potential effect of Ntn-1 on angiogenesis is further verified by the mouse hindlimb ischemia model, where the pre-activation of hUCB-MSCs with Ntn-1 significantly improved vascular regeneration. These results demonstrate that Ntn-1 plays an important role in the tissue regeneration process of hUCB-MSC via the lipid raft-mediated Inα6β4 signaling pathway.
No MeSH data available.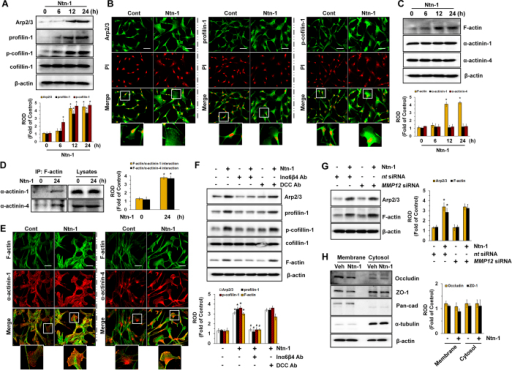 © Copyright Policy - open-access
License
getmorefigures.php?uid=PMC5121594&req=5
Mentions: We previously reported that Ntn-1 acts during the initiation of cytoskeletal reorganization in mesenchymal stem cells11 and in many other cell types731, but the underlying cellular mechanisms of Ntn-1 on cytoskeletal reorganization and the receptor specificity of stem cells involved in this process remain to be elucidated. An increase in Arp2/3, profilin-1, and p-cofilin-1 in response to Ntn-1, believed to be essential in the dynamic regulation of F-actin, was observed for 48 h at 50 ng/mL in a time-dependent manner (Fig. 5A). The increased level of proteins related to cytoskeletal reorganization as induced by an Ntn-1 treatment was further confirmed by immunofluorescence staining (Fig. 5B). A treatment with Ntn-1 also increased the amount of F-actin, but not the amounts of α-actinin-1 or α-actinin-4 (Fig. 5C). However, the F-actin interaction levels with α-actinin-1 and α-actinin-4 were increased after a treatment with Ntn-1 (Fig. 5D). Interestingly, the results according to confocal immunofluorescence microscopy revealed that Ntn-1 significantly induced the co-localization of F-actin and α-actinin-1 (Fig. 5E, left panel), as well as that of F-actin and α-actinin-4 (Fig. 5E, right panel). Importantly, the blocking of Inα6β4 activity but not DCC significantly attenuated the level of the cytoskeletal-reorganization-related proteins induced by Ntn-1 (Fig. 5F), whereas MMP-12 knockdown failed to regulate this process (Fig. 5G). Despite the frequent involvement of adherent junction molecules, such as E-cadherin, connexin, and occludin in the regulation of the reorganization of stem cells3233, Ntn-1 did not have any effect on the protein amounts or locations of adherent junction molecules (Fig. 5H). We subsequently evaluated whether Ntn-1 distinctively regulates the Inα6β4 signaling pathway during cell proliferation and during the cytoskeletal reorganization of hUCB-MSC. We found that the levels of Arp2/3 and F-actin as induced by Ntn-1 were significantly attenuated by a pre-treatment with PP2 (Supplementary Fig. 2A), Rac1siRNA (Supplementary Fig. 2B), and MβCD (Supplementary Fig. 2C). Interestingly, the blocking of ROS production with NAC (Supplementary Fig. 2C) or the knockdown of PKCα with PKCαsiRNA (Supplementary Fig. 2D) failed to regulate the cytoskeletal reorganization process of hUCB-MSC induced by Ntn-1, suggesting that Ntn-1 distinctively regulates the Inα6β4 signaling pathway, where the downstream signaling pathway of ROS production is necessary for the induction of hUCB-MSC proliferation.