Subungual Squamous Cell Carcinoma: The Diagnostic Challenge and Clinical Pearls
ABSTRACT
---
Subungual squamous cell carcinoma is a rare entity and difficult to diagnose as its clinical presentation may resemble benign conditions. This case report highlights the need to maintain a high clinical index of suspicion, and recommends a practical approach for subungual conditions. Dermoscopy and a biopsy for histology are important adjuncts to clinch the diagnosis.
No MeSH data available.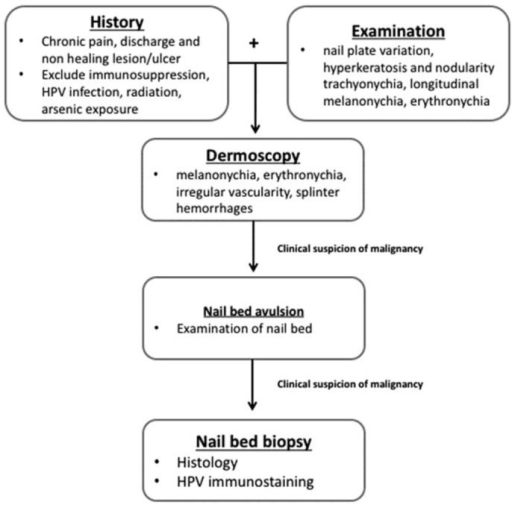 © Copyright Policy - open-access
License
getmorefigures.php?uid=PMC5121571&req=5
Mentions: We propose that the physician should note the following important features and clinical algorithm in evaluating a subungual lesion as presented in figure 5. In the history taking, chronic pain, splitting of nails, or change in nail colour and immunosuppression as a risk factor or previous history of HPV-related infections should be elucidated [3]. Other risk factors include radiation exposure, chronic infection, arsenic ingestion and prior trauma [6]. A thorough physical examination of the affected nail is required, looking for features such as nail plate variation, hyperkeratosis and nodularity. However, worrying signs include an uncharacteristic site of onycholysis, a friable lesion, and a chronically infected nail bed with ulceration. If direct dermoscopy can be performed, it is useful to look for longitudinal melanonychia or erythronychia, irregular vascularity, and haemorrhages [7]. If direct visualization of the nail bed is not possible, removal of the nail bed for further examination is required and a nail bed matrix biopsy for histology is mandatory. Nail avulsion for exposure is required and normal tissue should be included in the specimen [8]. HPV staining, although not routine, should be considered because type 16 HPV associations have been found most commonly, albeit in fingernails, for Bowen's disease and SCC [9]. However, other high-risk HPV subtypes such as HPV26, HPV33, HPV51, HPV56 and HPV73 have been found as well [10]. In the same study by Kreuter et al. [10], HPV-associated subungual SCC had a higher expression of p16INK4a and Ki67 biomarkers compared to non-HPV subungual SCC. The higher proliferative rate in the former may suggest a potentially more aggressive course than the latter.