Severe de novo Hepatitis B Recovered from Late-Onset Liver Insufficiency with Prolonged Ascites and Hypoalbuminemia due to Hepatitis B Virus Genotype Bj with Precore Mutation
ABSTRACT
---
De novo hepatitis B is associated with a high risk of hepatic failure often resulting in fatal fulminant hepatitis even when nucleotide analogues are administered. A 77-year-old female developed de novo hepatitis B after R-CHOP (rituximab, cyclophosphamide, doxorubicin, vincristine, and prednisolone) treatment for diffuse large B-cell lymphoma. Hepatitis B virus (HBV) isolated from the patient was of genotype Bj, with a precore mutation (G1896A) exhibiting an extremely high viral load at the onset of hepatitis. She showed markedly high levels of transaminase with mild jaundice on admission and rapid decrease of prothrombin activity after admission. Although acute liver failure was averted by the administration of entecavir and corticosteroid pulse therapy, liver volume decreased to 860 ml, and marked hypoalbuminemia accompanying massive ascites occurred 2 months after the onset of hepatitis and persisted for 3 months with high levels of HBV DNA and mild abnormal alanine aminotransferase levels. Frequent infusions of albumin solution, nutrition support, and alleviation therapy showed limited effect. However, overall improvement along with HBV DNA reduction was observed after increasing the dose of entecavir and completion of prednisolone that was administered with a minimum dose for adrenal insufficiency. An immediate and sufficient suppression of virus replication with potent antiviral therapy is critical, particularly in patients infected with HBV precore mutation (G1896A) and/or Bj genotype, which may have a high viral replication and direct hepatocellular damage.
No MeSH data available.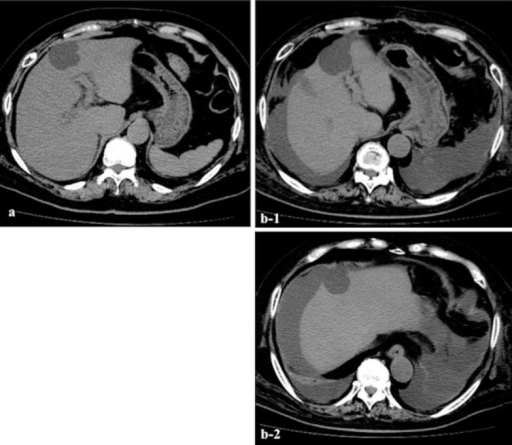 © Copyright Policy - open-access
License
getmorefigures.php?uid=PMC5121562&req=5
Mentions: A 77-year-old female was treated with six courses of R-CHOP for stage 1a diffuse large B-cell lymphoma (DLBCL). Prior to chemotherapy, the patient had no history of blood transfusions or surgery, except for tonsillectomy due to DLBCL. The patient had hypertension and hyperlipidemia, which were treated with amlodipine besylate, candesartan cilexetil, hydrochlorothiazide, and pravastatin sodium. Before chemotherapy, her serum was negative for hepatitis B surface antigen (HBsAg) and she had a normal liver function test with a Fibrosis-4 score of 1.59, but anti-HBc and anti-HBs were not evaluated. Four weeks after the completion of R-CHOP, she presented to our hospital with general fatigue and a loss of appetite. The patient weighed 64.0 kg, and her height was 148 cm. Mild jaundice was noted on physical examination, but an abdominal computed tomography (CT) revealed no abnormal findings in the hepatobiliary system. Laboratory examination revealed marked hepatocellular injury (table 1). HBsAg changed to positive and HBV DNA load exhibited ≥9.0 log copies/ml; therefore, the patient was diagnosed with de novo hepatitis B. The patient was immediately admitted, and entecavir (ETV) was administered at a dose of 1.0 mg on day 1 followed by 0.5 mg/day. On day 3, her serum transaminase levels appeared almost unchanged, total bilirubin slightly increased to 4.3 mg/dl, and prothrombin (PT) activity decreased from 80 to 71% in 1 day. Therefore, we commenced corticosteroid (CS) pulse therapy as follows: 1,000 mg/day of methylprednisolone (MPSL) was administered for 3 days and was reduced to half doses every 2 days. After the administration of 125 mg/day of MPSL for 2 days, 60 mg/day of PSL was administered for 4 days and then reduced by 5 mg every 5 days. PT activity recovered to >80% and alanine aminotransferase (ALT) levels decreased to 980 IU/l on day 5; however, serum albumin levels decreased to 2.8 g/dl (fig 1). HBV DNA load amounted to 8.8 log copies/ml on day 7 and the decrease in load was very slow, amounting to 8.5 log copies/ml on day 14 and 7.9 log copies/ml on day 29. Hepatic volume measured by CT decreased from 1,360 ml on day 1, to 1,100 ml on day 18, and to 990 ml on day 41. On day 46, HBV DNA remained at 7.6 log copies/ml and serum albumin decreased to 2.5 g/dl, although the PT activity was 100%. We initiated the administration of branched chain amino acid (BCAA) granules (1.2 g/day), and 100 ml of 25% albumin solution was administered. However, the increase in serum albumin levels was only minor. On day 60, with ALT levels decreasing to <100 IU/l, PSL was reduced to 5 mg/day, but the patient complained of a sense of fullness. A CT of the abdomen revealed marked ascites and a decreased hepatic volume of 860 ml (fig 2). Administration of BCAA was changed from granules to a BCAA-enriched nutrient mixture, containing 1.7 g of BCAA and 40.5 g of protein/day, and the administration of diuretics was started. However, the patient required frequent infusions of albumin solution to maintain serum albumin levels >2.5 g/dl. On day 68, PSL dosage was reduced to 2.5 mg/day, and the administration of ursodeoxycholic acid (UDCA) and intravenous glycyrrhizin was initiated. However, the patient complained of weakness and anorexia 3 days later. Her urine 17-ketogenic steroids showed markedly low levels (0.8 mg/day; standard value: 3.55–11.2 mg/day), indicating adrenal insufficiency. PSL dosage was increased to 15 mg/day, leading to a gradual alleviation of weakness and anorexia, and PSL was then reduced very slowly with a maintenance dosage of 5 mg/day since day 102. HBV DNA decreased to 5.4 log copies/ml on day 116, after which the decrease paused and the levels remained unchanged after 50 days, although ETV-resistant substitutions were not detected. However, serum albumin levels barely increased to 3.1 g/dl, hepatic volume recovered to 1,270 ml, ascites disappeared on day 114, and PSL was decreased gradually from 5 mg/day and discontinued after the administration of 2 mg/day during the last 2 weeks. Eight days after the cessation of PSL, ALT levels, having fluctuated within 55 IU/l for 60 days prior to this, now increased to 116 IU/l, and the serum albumin levels again decreased to 2.7 g/dl. We increased the dosage of ETV from 0.5 to 1.0 mg/day. ALT further increased to 260 IU/l, and the serum albumin levels decreased to 2.5 g/dl, resulting in pleural effusion. However, HBV DNA decreased from 5.5 to 4.5 log copies/ml, ALT decreased dramatically to 36 IU/l 2 weeks later, and serum albumin levels increased to 3.1 g/dl 3 weeks later. UDCA and glycyrrhizin were discontinued on day 186 with the stabilization of ALT levels <30 IU/l. Pleural effusion disappeared on day 214, and the patient was discharged.