Hypertrophic Pachymeningitis as an Early Manifestation of Relapsing Polychondritis: Case Report and Review of the Literature
ABSTRACT
---
Neurological involvement in relapsing polychondritis (RP) is relatively rare. We describe the case of an 80-year-old man who presented with hypertrophic pachymeningitis (HP) together with arthritis as the first manifestation of RP. Auricular chondritis, which subsequently determined the diagnosis of RP, occurred a few weeks after the detection of HP. The neurological symptoms, as well as arthritis, were promptly improved by treatment with corticosteroids. It is generally difficult to diagnose RP in the absence of typical cartilaginous involvement; however, the present case suggests that HP may occur as an early clinical manifestation of RP.
No MeSH data available.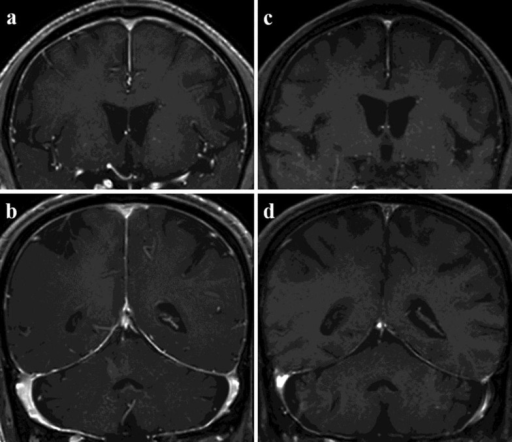 © Copyright Policy - open-access
License
getmorefigures.php?uid=PMC5121543&req=5
Mentions: An 80-year-old man presenting with headache, deafness on the right side, sensory disturbance on the left side of the face, and gait disturbance ascribable to remarkable dizziness, as well as bilateral arthralgia of the wrists, was admitted to our hospital. Magnetic resonance imaging (MRI) of the brain revealed diffuse thickening of the dura mater with gadolinium enhancement on T1-weighted images, in the falx cerebri, convexity, and tentorium cerebelli, which was compatible with HP (fig 1a, b). In the systemic assessment at admission, no inflammatory findings were demonstrated in the oral cavity, eyes, inner or external ears, skin, upper or lower respiratory tracts, cardiovascular system, digestive system, kidney, or urinary tract, despite bilateral tenderness with mild swelling in the wrist joints and neurosensory deafness. There were no abnormal findings suggestive of malignancy. Blood and biochemical examinations at admission revealed mild increases of white blood cell count (9,200/µl) and C-reactive protein (CRP) level (0.85 mg/dl), while results of all serum examinations, including those for rheumatoid factor, anti-nuclear antibodies, anti-dsDNA antibody, anti-SS-A antibody, anti-SS-B antibody, proteinase 3 anti-neutrophil cytoplasmic antibody (ANCA), myeloperoxidase ANCA, and angiotensin-converting enzyme were negative. The IgG4 titer was within the normal range (77 mg/dl). A cerebrospinal fluid (CSF) examination revealed elevation of protein levels (78 mg/dl), pleocytosis (57 cells/µl, 100% monocytes), and a high IgG index (1.9) with normal intracranial pressure. No atypical cells were found in cytological examination of the CSF. Tests of infection in the CSF, including cultures for bacterial or fungal infections, and the polymerase chain reaction test for tuberculosis were all negative. Three weeks after the demonstration of HP on MRI, right ear swelling appeared with CRP levels rising to 5.8 mg/dl, and abnormal uptake was observed in the right ear in gallium-67 scintigraphy (fig 2a, b), resulting in the diagnosis of RP according to the criteria described by Michet et al. [4]. Following the administration of 100 mg intravenous hydrocortisone for 3 days, oral prednisolone was administered at a dose of 20 mg daily, resulting in normalization of the CRP level and an immediate improvement of all symptoms, except for the right-sided deafness, which partially remained. The MRI finding of the gadolinium-enhanced dura mater was also improved (fig 1c, d). Oral prednisolone was successfully reduced without relapse.