NADP-Dependent Aldehyde Dehydrogenase from Archaeon Pyrobaculum sp.1860 : Structural and Functional Features
ABSTRACT
---
We present the functional and structural characterization of the first archaeal thermostable NADP-dependent aldehyde dehydrogenase AlDHPyr1147. In vitro, AlDHPyr1147 catalyzes the irreversible oxidation of short aliphatic aldehydes at 60–85°С, and the affinity of AlDHPyr1147 to the NADP+ at 60°С is comparable to that for mesophilic analogues at 25°С. We determined the structures of the apo form of AlDHPyr1147 (3.04 Å resolution), three binary complexes with the coenzyme (1.90, 2.06, and 2.19 Å), and the ternary complex with the coenzyme and isobutyraldehyde as a substrate (2.66 Å). The nicotinamide moiety of the coenzyme is disordered in two binary complexes, while it is ordered in the ternary complex, as well as in the binary complex obtained after additional soaking with the substrate. AlDHPyr1147 structures demonstrate the strengthening of the dimeric contact (as compared with the analogues) and the concerted conformational flexibility of catalytic Cys287 and Glu253, as well as Leu254 and the nicotinamide moiety of the coenzyme. A comparison of the active sites of AlDHPyr1147 and dehydrogenases characterized earlier suggests that proton relay systems, which were previously proposed for dehydrogenases of this family, are blocked in AlDHPyr1147, and the proton release in the latter can occur through the substrate channel.
No MeSH data available.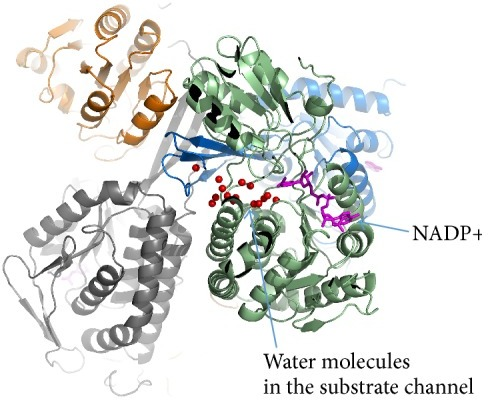 © Copyright Policy
License
getmorefigures.php?uid=PMC5121451&req=5
Mentions: Based on the structural analysis, several research groups hypothesized [5, 6, 18] that, in the AlDH structures, the substrate reaches the active site through a separate substrate channel, which comes to the surface of the enzyme opposite to the coenzyme entrance. The AlDHPyr1147 structure also contains a channel, via which the substrate can access the active site. The substrate channel in AlDHPyr1147 is composed mostly of residues of one subunit and, at the exit from the channel, of a few residues of another subunit that forms a dimer with the first subunit. This channel is funnel-shaped and it becomes narrower at the proximity of the active site. The substrate channel is lined by both polar and hydrophobic residues (Arg101, Lys102, Trp104, Gly105, Val108, Phe109, Arg112, Tyr156, Ser159, Ile160, Lys163, Phe277, Phe281, Ile286, Phe441, Leu442, and Glu443) and by the residues of another subunit (Asp132, Ser133, Glu134, Ser135, Thr481, Arg482, Arg483, Phe484, and Pro485) at the exit. In all the models of the binary complex, the substrate channel is occupied by water molecules (Figure 7).