Modified relaxation dynamics and coherent energy exchange in coupled vibration-cavity polaritons
ABSTRACT
---
Coupling vibrational transitions to resonant optical modes creates vibrational polaritons shifted from the uncoupled molecular resonances and provides a convenient way to modify the energetics of molecular vibrations. This approach is a viable method to explore controlling chemical reactivity. In this work, we report pump–probe infrared spectroscopy of the cavity-coupled C–O stretching band of W(CO)6 and the direct measurement of the lifetime of a vibration-cavity polariton. The upper polariton relaxes 10 times more quickly than the uncoupled vibrational mode. Tuning the polariton energy changes the polariton transient spectra and relaxation times. We also observe quantum beats, so-called vacuum Rabi oscillations, between the upper and lower vibration-cavity polaritons. In addition to establishing that coupling to an optical cavity modifies the energy-transfer dynamics of the coupled molecules, this work points out the possibility of systematic and predictive modification of the excited-state kinetics of vibration-cavity polariton systems.
No MeSH data available.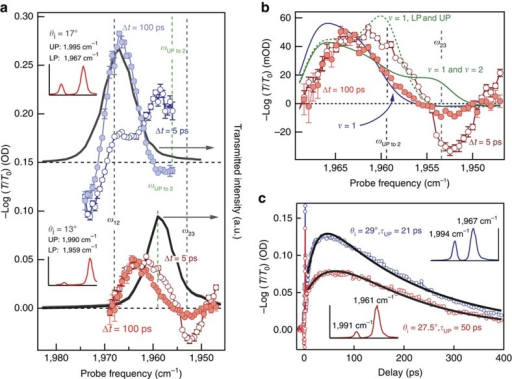 © Copyright Policy - open-access
License
getmorefigures.php?uid=PMC5121416&req=5
Mentions: As mentioned above, one potential complication in our interpretation arises because ωUPto2 is close to the reservoir v=2 to 3 transition frequency, ω23, making its assignment potentially ambiguous. We use the angle dependence of polariton energy to distinguish between polariton and reservoir populations and to substantiate our assignment of the quickly relaxing absorber to UP-excited W(CO)6. Changing the cavity angle systematically tunes the polariton energies while not affecting the reservoir vibrational state energies. Consequently, changing the angle will modify the position of ωUP to 2 but not ω23. Figure 5a shows transient spectra for cavity-coupled 10 mM W(CO)6 at two different incidence angles. At 17° (blue), the transient spectra resemble those previously presented (Fig. 3a). At 13°, that is, red detuned from strongest coupling (red curve), the spectra show marked, qualitative differences. At this detuning, ωUP to 2 has been shifted ∼7 to 1,961 cm−1 but the ω23 transition does not depend on the cavity detuning and remains at 1,953 cm−1. Under these conditions, we observe a strong negative transient response at 1,953 cm−1 5 ps after excitation (open circles), which is all but absent after 100 ps (filled circles). If the fast component resulted from reservoir v=2 population, we would observe a positive response at 1,953 cm−1, as opposed to the negative feature we observe, and so we assign the fast component to population in UP. Further evidence for this assignment is shown in Fig. 5b, where calculated transient spectra are shown for population in either the UP or reservoir v=2 levels overlaid on the experimental early-time spectrum taken under red detuned conditions. The calculated spectrum that includes UP population (dotted green) captures the positive features at 1,961 and 1,966 cm−1 and the negative feature at 1,954 cm−1 though the feature amplitudes and the positive feature at the lowest probe energy (<1,950 cm−1) are not accurately predicted. Calculating the spectrum with population in uncoupled v=2 (solid green) results in a positive response at ∼1,953 cm−1 and does not even qualitatively agree with the data. The calculated spectrum for only reservoir v=1 population (blue) agrees well with the experimental spectrum at Δt=100 ps (filled circles). Again, the ωLP to 2 (1,983 cm−1 for 17° and 1,992 cm−1 for 13°) transition is close to ω01 (1,983 cm−1) and so has only subtle effects on the calculated and observed spectra (as described in Supplementary Note 4).