Xpert MTB/RIF Assay Shows Faster Clearance of Mycobacterium tuberculosis DNA with Higher Levels of Rifapentine Exposure
ABSTRACT
---
The Xpert MTB/RIF assay is both sensitive and specific as a diagnostic test. Xpert also reports quantitative output in cycle threshold (CT) values, which may provide a dynamic measure of sputum bacillary burden when used longitudinally. We evaluated the relationship between Xpert CT trajectory and drug exposure during tuberculosis (TB) treatment to assess the potential utility of Xpert CT for treatment monitoring. We obtained serial sputum samples from patients with smear-positive pulmonary TB who were consecutively enrolled at 10 international clinical trial sites participating in study 29X, a CDC-sponsored Tuberculosis Trials Consortium study evaluating the tolerability, safety, and antimicrobial activity of rifapentine at daily doses of up to 20 mg/kg of body weight. Xpert was performed at weeks 0, 2, 4, 6, 8, and 12. Longitudinal CT data were modeled using a nonlinear mixed effects model in relation to rifapentine exposure (area under the concentration-time curve [AUC]). The rate of change of CT was higher in subjects receiving rifapentine than in subjects receiving standard-dose rifampin. Moreover, rifapentine exposure, but not assigned dose, was significantly associated with rate of change in CT (P = 0.02). The estimated increase in CT slope for every additional 100 μg · h/ml of rifapentine drug exposure (as measured by AUC) was 0.11 CT/week (95% confidence interval [CI], 0.05 to 0.17). Increasing rifapentine exposure is associated with a higher rate of change of Xpert CT, indicating faster clearance of Mycobacterium tuberculosis DNA. These data suggest that the quantitative outputs of the Xpert MTB/RIF assay may be useful as a dynamic measure of TB treatment response.
No MeSH data available.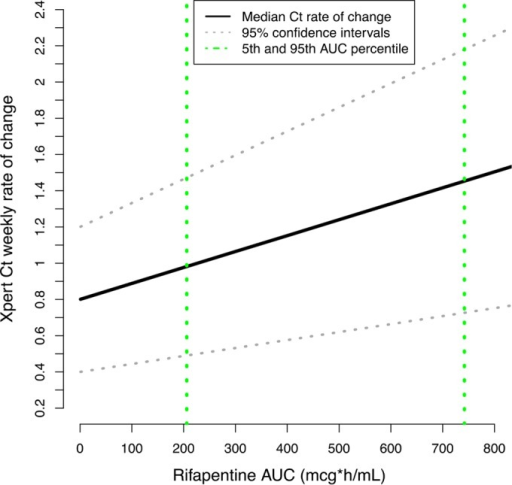 © Copyright Policy - open-access
License
getmorefigures.php?uid=PMC5121396&req=5
Mentions: Since the difference in CT trajectory between those who received rifampin and those who received rifapentine may have been due to the higher dosages of rifapentine administered during the study, we investigated the direct association of drug exposure with M. tuberculosis DNA clearance. Using a population pharmacokinetic model developed for the parent trial, rifapentine exposure (AUC) was derived for each individual (15). We found that the derived AUC was a significant predictor of the rate of change in CT (P = 0.02). The estimated increase in CT slope for every additional 100 μg · h/ml of rifapentine AUC was 0.11 CT/week (95% CI, 0.05 to 0.17). Figure 2 depicts the positive correlation between CT slope and median rifapentine AUC. However, CT trajectories did not vary significantly across rifapentine treatment arms (1.34, 1.38, and 1.10 CT/week for rifapentine at 10 mg/kg, 15 mg/kg, and 20 mg/kg, respectively; P = 0.25) or across administered dosage groups (1.19, 1.09, and 1.10 CT/week at 600, 900, or 1,200 mg, respectively; P = 0.13). Study 29X showed a similar association between treatment and sputum culture conversion in the liquid culture medium, in which higher rifapentine exposure, but not treatment arm (weight-based rifapentine dose) or flat rifapentine dose, was significantly associated with faster culture conversion (15). Table 2 shows previously published data by Dorman et al. (15) from their larger parent study data set cohort alongside our results from our subset of 115 study participants to demonstrate the consistent significance of rifamycin exposure across monitoring methodologies.