Effects of intracerebroventricular administration of 2-hydroxypropyl- β -cyclodextrin in a patient with Niemann – Pick Type C disease
ABSTRACT
---
Niemann–Pick Type C disease (NPC) is an autosomal recessive lysosomal storage disorder characterized by progressive neurological deterioration. Previously, we reported that intravenous administration of 2-hydroxypropyl-β-cyclodextrin (HPB-CD) in two patients with NPC had only partial and transient beneficial effects on neurological function. The most likely reason for HPB-CD not significantly improving the neurological deficits of NPC is its inability to cross the blood–brain barrier. Herein, we describe the effects of intrathecal HPB-CD in an eight-year-old patient with a perinatal onset of NPC, administered initially at a dose of 10 mg/kg every other week and increased up to 10 mg/kg twice a week. Clinically, the patient maintained residual neurological functions for two years, at which time nuclear magnetic resonance spectroscopy showed a decreased choline to creatine ratio and increased N-acetylaspartate to creatine ratio, and positron emission tomography revealed increased standardized uptake values. Total-tau in the cerebrospinal fluid (CSF) was also decreased after two years. No adverse effects were observed over the course of treatment. The CSF concentrations of HPB-CD during the distribution phase after the injections were comparable with those at which HPB-CD could normalize cellular cholesterol abnormality in vitro. Further studies are necessary to elucidate the mechanisms of action of HPB-CD in NPC, and to determine the optimal dose and intervals of HPB-CD injection.
No MeSH data available.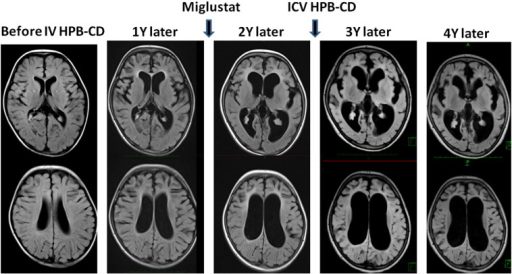 © Copyright Policy - CC BY-NC-SA
License
getmorefigures.php?uid=PMC5121362&req=5
Mentions: A girl in whom hepatosplenomegaly was detected before birth, was diagnosed with NPC based on mutations in the NPC1 gene (c.581_592delinsG, Y1088C) at the age of two months. She developed slowly until 3 years of age, walking alone at 19 months and using two-word sentences at 3 years. However, after 3 years of age she started to exhibit rapid neurological deterioration, including progressive ataxia, cataplexy, dysarthria, dysphagia, and convulsions. She was started on intravenous HPB-CD treatment at 4 years of age, by which stage she had marked hepatosplenomegaly, could walk indoors with assistance, and speak only a few unclear words. She also exhibited vertical gaze palsy, mild occasional dysphagia, slight hypotonia, ataxia, frequent attacks of cataplexy, and rare convulsions. After one year of treatment with HPB-CD, the hepatosplenomegaly was slightly improved, but unfortunately, her neurological signs had worsened as she gradually developed dysphagia, rigidity, and frequent seizures. Consequently, she became bed-ridden and lost the ability to speak. She was started on tube feeding via a gastrostomy. We added miglustat after one year of treatment with HPB-CD; however, her neurological deterioration continued. Her swallowing function worsened, and she suffered from severe aspiration pneumonia. Her head MRI also showed progressive brain atrophy (Fig. 2).