A SUCLG1 mutation in a patient with mitochondrial DNA depletion and congenital anomalies
ABSTRACT
---
Defects in two subunits of succinate-CoA ligase encoded by the genes SUCLG1 and SUCLA2 have been identified in mitochondrial DNA (mtDNA) depletion syndromes. Patients generally present with encephalomyopathy and mild methylmalonic acidemia (MMA), however mutations in SUCLG1 normally appear to result in a more severe clinical phenotype. In this report, we describe a patient with fatal infantile lactic acidosis and multiple congenital anomalies (MCAs) including renal and cardiac defects. Molecular studies showed a defective electron transport chain (ETC), mtDNA depletion, and a novel homozygous mutation in the SUCLG1 gene. Although our patient's clinical biochemical phenotype is consistent with a SUCLG1 mutation, it is unclear whether the MCAs observed in our patient are a result of the SUCLG1 mutation or alterations in a second gene. An increasing number of reports have described MCAs associated with mitochondrial disorders and SUCLG1 specifically. Additional studies such as whole exome sequencing will further define whether additional genes are responsible for the observed MCAs.
No MeSH data available.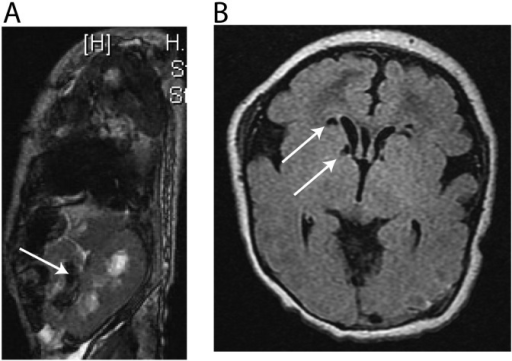 © Copyright Policy - CC BY-NC-ND
License
getmorefigures.php?uid=PMC5121340&req=5
Mentions: The patient was a four week old male delivered to a 33 year old mother. Family history included one healthy female child, a spontaneous abortion at ten weeks of gestation and death of a male child at one day of life. No consanguinity was reported. Prenatal ultrasound revealed abnormalities including superior vena cava dilation, bilateral short femurs and humeri, as well as left renal pelviectasis. Labor and delivery were uncomplicated. At the time of delivery, the child was noted to have cleft lip with clefting of the anterior hard palate. An echocardiogram performed in the newborn nursery revealed a coarctation of the aorta. At 12 h of life, the patient became mottled and cyanotic, and was severely acidotic (pH 6.883, bicarbonate 5, base excess of − 27, lactate > 20). A full sepsis workup was negative and the child remained acidotic (lactate often > 20) despite numerous fluid boluses and administration of sodium bicarbonate. In addition to the cleft lip and palate, physical exam revealed a dysmorphic right nare. The liver edge was appreciably 1 cm below the right costal margin, the left femur was shorter than the right, and humeri were short bilaterally. A repeat echocardiogram showed good biventricular function, a seven millimeter patent ductus arteriosus (PDA) with bidirectional shunting, aortic arch hypoplasia between the left carotid and left subclavian artery, and a patent foramen ovale (PFO) with left to right shut. An MRI of the abdomen showed dilation of the left collecting system and accessory left kidney with possible cross-fused ectopia (Fig. 1A). Cranial ultrasound revealed cystic changes of the bilateral ventricles and a small cyst at the right caudothalamic groove. A brain MRI showed multifocal areas of acute ischemia, most pronounced in the left occipitoparietal periphery, with a central component of acute hemorrhage (Fig. 1B). Laboratory testing revealed an elevated lactate:pyruvate ratio (> 200), abnormal urinary methylmalonic acid (579 mmol/Mol creatinine), 3-hydroxypropionic acid (99 mmol/Mol creatinine) and 3-hydroxyisovaleric acid (853 mmol/Mol creatinine). A plasma acylcarnitine profile showed elevated C3 (10.4 mcM) and C5 (1.13 mcM), elevated free carnitine (62 mcM) and an elevated C3:C2 ratio (0.20). A muscle biopsy showed increased intra-myofiber lipid content and mitochondrial ultrastructural abnormalities. Collectively, the patient's clinical phenotype, laboratory results, and muscle biopsy suggested generalized mitochondrial dysfunction. The child showed no improvement over four weeks despite intense interventions. Life support was withdrawn, and the child expired shortly thereafter.