Direct identification of clinically relevant neoepitopes presented on native human melanoma tissue by mass spectrometry
ABSTRACT
---
Although mutations may represent attractive targets for immunotherapy, direct identification of mutated peptide ligands isolated from human leucocyte antigens (HLA) on the surface of native tumour tissue has so far not been successful. Using advanced mass spectrometry (MS) analysis, we survey the melanoma-associated immunopeptidome to a depth of 95,500 patient-presented peptides. We thereby discover a large spectrum of attractive target antigen candidates including cancer testis antigens and phosphopeptides. Most importantly, we identify peptide ligands presented on native tumour tissue samples harbouring somatic mutations. Four of eleven mutated ligands prove to be immunogenic by neoantigen-specific T-cell responses. Moreover, tumour-reactive T cells with specificity for selected neoantigens identified by MS are detected in the patient's tumour and peripheral blood. We conclude that direct identification of mutated peptide ligands from primary tumour material by MS is possible and yields true neoepitopes with high relevance for immunotherapeutic strategies in cancer.
No MeSH data available.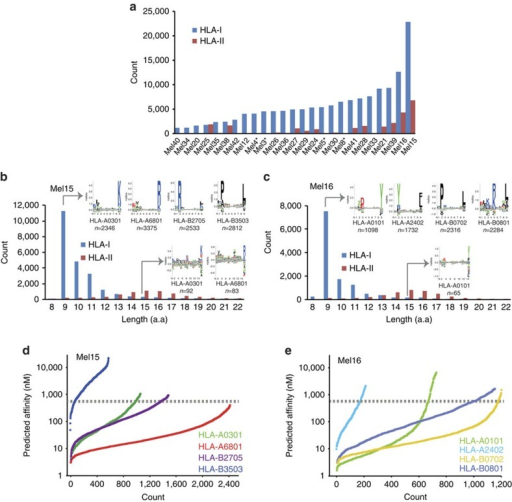 © Copyright Policy - open-access
License
getmorefigures.php?uid=PMC5121339&req=5
Mentions: Tumour tissue samples from 25 melanoma patients (Supplementary Tables 1 and 2) were used for analysis of biochemically purified HLA class I and II binding peptides. In total, we performed 140 MS measurements of purified peptides by LC–MS/MS analysis (Supplementary Data 1) using a state-of-the-art mass spectrometer, followed by stringent bio(informatics) analyses in the MaxQuant environment26. We identify 95,662 unique peptide sequences with a false discovery rate (FDR) of 1% (Fig. 1a, Supplementary Data 2) and report in total 99,355 peptide forms. We discover 78,605 peptides in the HLA class I peptidome from 12,663 proteins and 15,009 in the HLA class II peptidome from 2,832 proteins. In addition, 2,048 peptides from 746 proteins are detected in both classes I and II peptidome samples. The large variability in the number of eluted peptides per patient is in agreement with the amount of eluted HLA complexes. We demonstrate this by showing significant positive correlation between the number of identified peptides in HLA class I peptidome and the amount of recovered beta-2 microglobulin (B2M) in each tissue (Supplementary Fig. 1a and b). Eluted peptides show the characteristic length distribution and the MS-data itself assigns to proper anchor residues of defined HLA allotypes as exemplarily shown for two patients in Fig. 1b,c using the Gibbs clustering approach27. Many of the longer peptides (up to 15 amino acids) identified among the eluted HLA class I peptides still show the typical anchor motifs and are therefore likely binders and not contaminants (Fig. 1b,c). Another common approach used to assess purity and overall performance of elution of HLA peptides is the estimation of the affinity of the eluted peptides to the respective HLA molecules by predicting binding affinities2528. This analysis, however, depends very much on the performance of the prediction programs. We predicted the binding affinity of eluted HLA-I peptides from patients Mel15 and Mel16. Due to the difficulty in assignment of peptides with multiple potential restrictions, we filtered the list of peptides to include only 9-mer peptides that bind to only one defined HLA allotype according to the minimum predicted affinity. Instead of using the 500 nM threshold commonly used for peptide binding prediction, we set the threshold for a binding as rank <2% (standard settings in NetMHC4.0). Using our dataset, we observed that a considerable amount of peptides that was assigned as HLA-B3503 binders fit the binding motif (Pro and Ala in the second position and Leu in the last position). In contrast, the predicted affinities of these binders (rank <2%) were extremely low, with median predicted affinity of 2,806 nM (n=581) (Fig. 1d,e). These results differ substantially from analysis of HLA-I peptides assigned to HLA-B0702, an allotype with a rather similar motif, for which we observed a median predicted affinity of 17.7 nM of associated peptides (n=1,191) eluted from the tumour of patient Mel16.