Genome-wide RNAi screen reveals ALK1 mediates LDL uptake and transcytosis in endothelial cells
ABSTRACT
---
In humans and animals lacking functional LDL receptor (LDLR), LDL from plasma still readily traverses the endothelium. To identify the pathways of LDL uptake, a genome-wide RNAi screen was performed in endothelial cells and cross-referenced with GWAS-data sets. Here we show that the activin-like kinase 1 (ALK1) mediates LDL uptake into endothelial cells. ALK1 binds LDL with lower affinity than LDLR and saturates only at hypercholesterolemic concentrations. ALK1 mediates uptake of LDL into endothelial cells via an unusual endocytic pathway that diverts the ligand from lysosomal degradation and promotes LDL transcytosis. The endothelium-specific genetic ablation of Alk1 in Ldlr-KO animals leads to less LDL uptake into the aortic endothelium, showing its physiological role in endothelial lipoprotein metabolism. In summary, identification of pathways mediating LDLR-independent uptake of LDL may provide unique opportunities to block the initiation of LDL accumulation in the vessel wall or augment hepatic LDLR-dependent clearance of LDL.
No MeSH data available.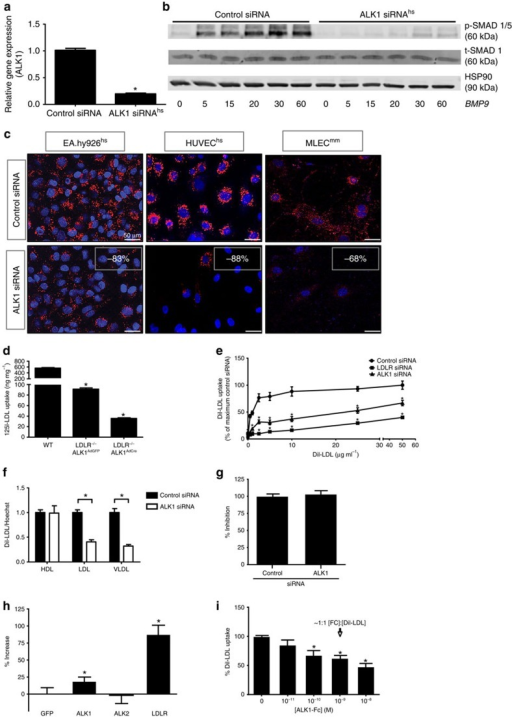 © Copyright Policy - open-access
License
getmorefigures.php?uid=PMC5121336&req=5
Mentions: ALK1 is a TGF-β-type 1 receptor that binds bone morphogenetic proteins (BMP) −9 and −10 ligands with high affinity12. The receptor is highly expressed in primary human endothelial cells compared primary human hepatocytes (Supplementary Fig. 4). To examine how this receptor may regulate LDL uptake, in depth analysis of ALK1 was undertaken in a variety of systems. Knockdown of ALK1 reduced transcript levels in human endothelial cells (Fig. 2a) and mouse lung endothelial cells (MLEC; Supplementary Fig. 5a). All four individual siRNAs against human ALK1 from the genome-wide RNAi screen were analysed for their knockdown efficiency, showing that siRNA 06 led to the strongest inhibition (Supplementary Fig. 5b). Since several commercially available antibodies do not detect ALK1 protein specifically, we used BMP9 signalling to SMAD1/5 as a surrogate readout for the loss of ALK1 function. Indeed, knockdown of ALK1 impaired BMP9 induction of canonical SMAD 1/5 phosphorylation in HUVECs (Fig. 2b) and MLEC (Supplementary Fig. 5c). Moreover, ALK1 silencing in EA.hy926 cells, primary HUVEC and MLEC resulted in reduced uptake of DiI-LDL (Fig. 2c). To test the sufficiency of ALK1 for LDL uptake, MLEC were isolated from Acvrl1fl/fl, Ldlr−/− double knockout (KO) mice, immortalized with middle T antigen13 cultured in lipoprotein-deficient serum (LPDS) overnight to maximize LDL uptake and infected with adenovirus-expressing green fluorescent protein (AdGFP) as a control or adenoviral Cre-recombinase (AdCre) to excise the Acvrl1 allele. The loss of LDLR markedly reduced 125I-LDL uptake into MLEC infected with AdGFP consistent with its known role of LDLR (Fig. 2d), however, AdCre-mediated excision of Acvrl1 in cells lacking LDLR further reduced 125I-LDL uptake by 60%. Next, we compared the relative importance of LDLR versus ALK1 in mediating LDL uptake by treating endothelial cells (EC) with siRNAs to LDLR or ALK1 and growing the cells in complete media including serum. Under these conditions, the loss of LDLR and to a lesser extent ALK1, both reduced LDL uptake over a range of DiI-LDL concentrations (Fig. 2e). Also, the specificity of the uptake of ApoB100 rich lipoproteins (LDL and very low-density lipoprotein; VLDL) versus ApoA1 rich lipoproteins (HDL) was tested. Silencing of ALK1 inhibited DiI-LDL and DiI-VLDL uptake, but not DiI-HDL uptake (Fig. 2f), implying specificity for ApoB100 containing lipoproteins. Chylomicrons or its remnants were not tested. It has been hypothesized that oxidized LDL (OxLDL) contributes to the development of atherosclerosis, and it is known that the biological behaviour and receptor recognition of OxLDL is significantly different from native LDL14. The uptake of DiI-OxLDL is not affected by the knockdown of ALK1 (Fig. 2g). ALK1 is one of seven ALK receptors (ALK1-ALK7) and sequence alignment of this family reveals low homology in the amino-terminal/extracellular domains, but a high homology of the carboxy-terminal/intracellular domain. As the ligands bind to the amino-terminal domain of the ALK family we compared ALK1 and ALK2, which share 59% homology among the entire protein and just 23% for the extracellular domain. Whereas LDLR and ALK1 overexpression increases DiI-LDL uptake we could not detect an effect of ALK2 overexpression on DiI-LDL uptake (Fig. 2h). As the knockdown of ALK1 in endothelial cells results in less uptake of LDL, the presence of the ALK1-ectodomain (ALK1-Fc) should phenocopy this effect. ALK1-Fc reduced DiI-LDL uptake dose-dependently starting at a threshold of 10−10 M (Fig. 2i).