Genome-wide RNAi screen reveals ALK1 mediates LDL uptake and transcytosis in endothelial cells
ABSTRACT
---
In humans and animals lacking functional LDL receptor (LDLR), LDL from plasma still readily traverses the endothelium. To identify the pathways of LDL uptake, a genome-wide RNAi screen was performed in endothelial cells and cross-referenced with GWAS-data sets. Here we show that the activin-like kinase 1 (ALK1) mediates LDL uptake into endothelial cells. ALK1 binds LDL with lower affinity than LDLR and saturates only at hypercholesterolemic concentrations. ALK1 mediates uptake of LDL into endothelial cells via an unusual endocytic pathway that diverts the ligand from lysosomal degradation and promotes LDL transcytosis. The endothelium-specific genetic ablation of Alk1 in Ldlr-KO animals leads to less LDL uptake into the aortic endothelium, showing its physiological role in endothelial lipoprotein metabolism. In summary, identification of pathways mediating LDLR-independent uptake of LDL may provide unique opportunities to block the initiation of LDL accumulation in the vessel wall or augment hepatic LDLR-dependent clearance of LDL.
No MeSH data available.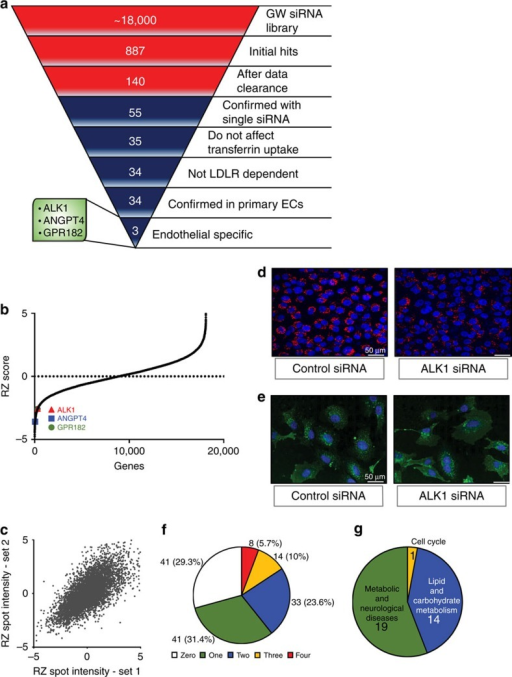 © Copyright Policy - open-access
License
getmorefigures.php?uid=PMC5121336&req=5
Mentions: The uptake, transfer and retention of LDL particles across the endothelial layer of blood vessels is considered a primary mechanism to initiate atherogenesis. However, since the LDLR is typically occupied and downregulated when plasma lipids are elevated, we undertook a genome-wide RNAi screen to identify genes involved in native LDL uptake independent of LDLR activity. Considering the importance of genetic stability and reproducibility required for a screen of this calibre, the human endothelial cell line, EA.hy926 (ref. 11) (Fig. 1a) was used and cultured under conditions where endogenous LDLR had been downregulated by excess of the ligand LDL6. In the initial screen, run in triplicate over a 3 months period, cells were transfected with a Dharmacon short interfering RNA (siRNA) library containing four pooled siRNAs/gene to silence 18,119 genes in the human genome (Supplementary Data set 1). Transfected cells were then incubated with excess human LDL (25 μg ml−1) overnight to downregulate LDLR overnight, before the uptake of fluorescently labelled LDL (DiI-LDL) was examined after 60 min using a 384 well confocal microscope. The results from the screen were fit to an expected inverse sigmoidal robust z-score distribution (Fig. 1b), indicating that gene knockdown either increased or decreased DiI-LDL uptake and demonstrated a high level of reproducibility between different data sets (Fig. 1c). As seen in Fig. 1a, silencing of 887 genes showed an effect on DiI-LDL uptake with a robust z-score ≤−2.5. A manual, computer-assisted data clearance algorithm removed promiscuous genes (that typically show up in various screens), toxic genes, and artefacts by visual inspection of the confocal images from individual hits. The data were mined to include cell surface molecules and novel gene products, but to exclude genes for transcription factors, obvious components of the endocytic machinery and sterol regulated genes. After inspection of individual hits, a final set of 140 genes (Supplementary Data set 2) was re-screened using four individual siRNAs per gene resulting in the confirmation of 55 genes (with ≥2 siRNAs/gene showing ≥50% reduction of DiI-LDL uptake) required for DiI-LDL uptake (Fig. 1d,f). To identify pathways specific for LDL and not classical cargo molecules, a secondary screen examining the uptake of transferrin-fluorescein isothiocyanate (FITC), a marker for clathrin-mediated endocytosis was performed. The silencing of 35/55 genes did not affect the uptake of transferrin (Fig. 1e). Finally, the contribution of LDLR, in conjunction with the newly identified genes, was tested using cells stably expressing short hairpin RNAs (shRNAs) against LDLR (Supplementary Fig. 1) for LDLR messenger RNA and protein levels) and 34 of these genes reduced DiI-LDL uptake independent of LDLR levels. Furthermore, since the original screen was conducted in an endothelial line, the 34 hits identified were retested in primary cultures of human umbilical vein endothelial cells (HUVEC) and all 34 hits were re-confirmed. Analysis of the 34 genes with Ingenuity Pathway Analysis (Fig. 1g, Supplementary Fig. 2 and Supplementary Table 1) showed that 19 hits cluster in metabolic/neurological pathways and 14 belong to lipid/carbohydrate metabolic pathways and only three genes were uniquely expressed in endothelial cells. Analysis of publically available GWAS-data sets revealed an association for 14 gene hits in regard to cardiovascular traits and/or lipids (Supplementary Fig. 3 and Supplementary Data set 3). ACVRL1, ANGPT4 and GPR182 fulfilled all the criteria of the follow-up screen (Fig. 1a and Supplementary Fig. 3). Since ANGPT4 is not well characterized as a ligand and GPR182 is an orphan receptor, the initial follow-up focuses on ALK1 as an LDL-binding protein mediating LDL uptake and transcytosis.