Dynamic structure of active nematic shells
ABSTRACT
---
When a thin film of active, nematic microtubules and kinesin motor clusters is confined on the surface of a vesicle, four +1/2 topological defects oscillate in a periodic manner between tetrahedral and planar arrangements. Here a theoretical description of nematics, coupled to the relevant hydrodynamic equations, is presented here to explain the dynamics of active nematic shells. In extensile microtubule systems, the defects repel each other due to elasticity, and their collective motion leads to closed trajectories along the edges of a cube. That motion is accompanied by oscillations of their velocities, and the emergence and annihilation of vortices. When the activity increases, the system enters a chaotic regime. In contrast, for contractile systems, which are representative of some bacterial suspensions, a hitherto unknown static structure is predicted, where pairs of defects attract each other and flows arise spontaneously.
No MeSH data available.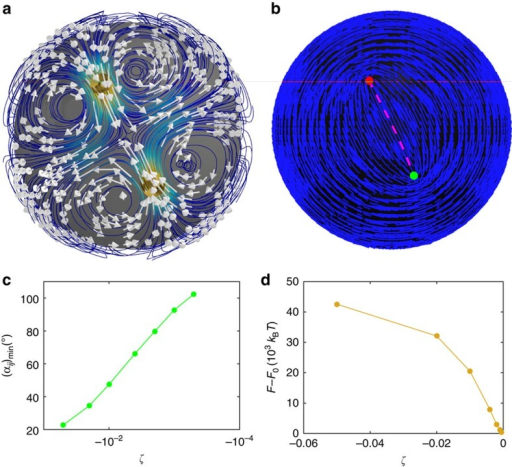 © Copyright Policy - open-access
License
getmorefigures.php?uid=PMC5121334&req=5
Mentions: We conclude with a discussion of a contractile system, for which ζ<0. When , the system comes to rest (in terms of its defect structure) after a few oscillations. The steady state corresponds to four defects forming two pairs; within each pair, the defects are attracted to each other. As shown in Fig. 6b, the two pairs appear at the two poles (one pair is not shown for clarity). They are oriented back to back, forming a short arc. Although the director field and defect configuration are stationary, a velocity field still exists (Fig. 6a). It is primarily localized near the defect pairs. The mean flow direction at the defect is opposite to its orientation, in contrast to extensile systems, where the mean flow direction is along the defect orientation. Extensional flows emerge between the defect pair, a feature that could be useful for design of microfluidic applications. In this case, the activity drives the system to a state from which it cannot escape. The activity tries to attract two +1/2 defects, but this is prevented by elasticity. As shown in Fig. 6d, as activity increases in a contractile state, the angular distance between attracted defects at steady state becomes smaller, and the system's free energy increases. For even more negative values of ζ, the four-defect structure becomes unstable. Occasionally, it fuses into two +1 defects located at the poles, forming a bipolar structure. But this state is fragile, the system evolves into a multi-defect configuration, and momentum is no longer conserved. We are not aware of contractile biopolymer systems, despite the fact that some materials are contractile-like7. However, non-nematic micro-swimmer systems, such as algae, can be contractile. We therefore propose that future experiments on bacterial swimmers in nematic shells could be used to assess the merits of our predictions and, if correct, could be used as the basis for creation of self-propelled microfluidic devices capable of producing both controlled shear and elongational forces.