Dynamic structure of active nematic shells
ABSTRACT
---
When a thin film of active, nematic microtubules and kinesin motor clusters is confined on the surface of a vesicle, four +1/2 topological defects oscillate in a periodic manner between tetrahedral and planar arrangements. Here a theoretical description of nematics, coupled to the relevant hydrodynamic equations, is presented here to explain the dynamics of active nematic shells. In extensile microtubule systems, the defects repel each other due to elasticity, and their collective motion leads to closed trajectories along the edges of a cube. That motion is accompanied by oscillations of their velocities, and the emergence and annihilation of vortices. When the activity increases, the system enters a chaotic regime. In contrast, for contractile systems, which are representative of some bacterial suspensions, a hitherto unknown static structure is predicted, where pairs of defects attract each other and flows arise spontaneously.
No MeSH data available.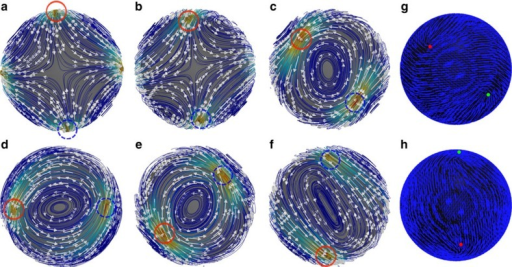 © Copyright Policy - open-access
License
getmorefigures.php?uid=PMC5121334&req=5
Mentions: The system remains passive until the activity reaches a value of ζ≥0.0007, at which point a spontaneous flow is generated. Below the onset activity, the defect configuration is deformed but remains static, as the elasticity balances the activity. Figure 2 shows a time sequence of representative images, separated by ∼80 s, which reveal the position of the defects, along with the corresponding streamlines, for ζ=0.001. The highest velocities, which reach values as high as 0.15 μm s−1, are always associated with the defects, implying that the spatial gradient of the nematic order parameter induces the flows. The mean flow direction at the +1/2 defect is along its symmetry axis, which is consistent with experimental observations23. It is convenient to define this direction as the orientation of the defect. As can be appreciated in the figure, the system develops vortices that are separated by defects. Occasionally (in Fig. 2a,c,e), four equally sized parallel eddies appear, with two extensional flows located at the two poles. Neighbouring vortices counter-rotate and, as shown later, this feature corresponds to an excited state.