A systems study reveals concurrent activation of AMPK and mTOR by amino acids
ABSTRACT
---
Amino acids (aa) are not only building blocks for proteins, but also signalling molecules, with the mammalian target of rapamycin complex 1 (mTORC1) acting as a key mediator. However, little is known about whether aa, independently of mTORC1, activate other kinases of the mTOR signalling network. To delineate aa-stimulated mTOR network dynamics, we here combine a computational–experimental approach with text mining-enhanced quantitative proteomics. We report that AMP-activated protein kinase (AMPK), phosphatidylinositide 3-kinase (PI3K) and mTOR complex 2 (mTORC2) are acutely activated by aa-readdition in an mTORC1-independent manner. AMPK activation by aa is mediated by Ca2+/calmodulin-dependent protein kinase kinase β (CaMKKβ). In response, AMPK impinges on the autophagy regulators Unc-51-like kinase-1 (ULK1) and c-Jun. AMPK is widely recognized as an mTORC1 antagonist that is activated by starvation. We find that aa acutely activate AMPK concurrently with mTOR. We show that AMPK under aa sufficiency acts to sustain autophagy. This may be required to maintain protein homoeostasis and deliver metabolite intermediates for biosynthetic processes.
No MeSH data available.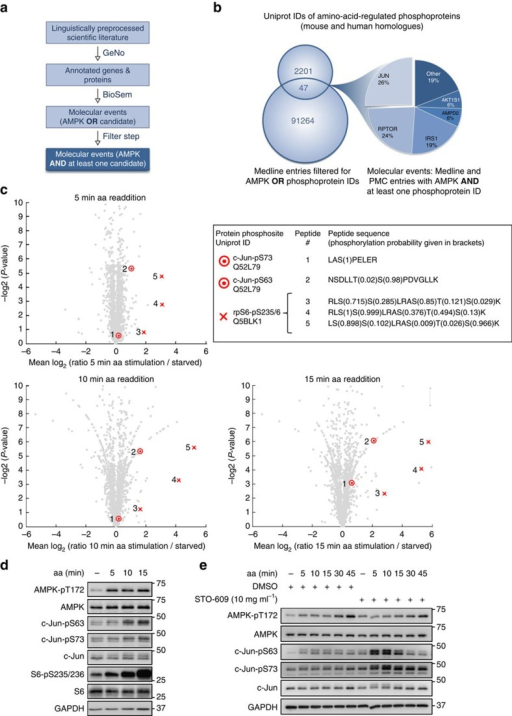 © Copyright Policy - open-access
License
getmorefigures.php?uid=PMC5121333&req=5
Mentions: To comprehensively analyse aa-stimulated phosphorylation events that depend on AMPK, we adopted a quantitative phosphoproteomics approach in combination with text mining-enhanced data analysis. As AMPK responds acutely to aa, we analysed the phosphoproteome at 5, 10 and 15 min upon aa readdition. 2,517 phosphopeptides containing 2,078 confidently localized phosphosites were identified. Applying a ratio cutoff of 1.5 and a P-value cutoff of 0.05 (see Methods and Supplementary Data 1 and 2 for details), 296 phosphopeptides were significantly regulated at at least one time point (Supplementary Data 1 for phosphosites, and Supplementary Data 2 for phosphopeptides). With a twofold cutoff, 108 phosphopeptides remained significantly regulated. We continued the analysis with this more stringent data set. Consistent with a major role of mTOR in aa signalling, the gene ontology (GO) terms mTOR- and mTORC1-mediated signalling were significantly enriched (Supplementary Fig. 24b). To systematically evaluate for each candidate in our proteomics data set whether it could be regulated by AMPK, we adopted an automated Medline and PubMed Central (PMC) wide-text analysis. The text mining pipeline included automated recognition of genes and proteins in abstracts in Medline, and the open access subset of PMC full texts (Fig. 6a). We filtered from the complete text corpus for all abstracts that referenced either AMPK or at least one of the candidates from our proteomics data set. As this data set contained Mus musculus UniProt IDs only, the candidate list was extended with the homologous Homo sapiens associated UniProt IDs, leading to a total of 2,201 UniProt IDs (Supplementary Data 3). Linguistic preprocessing and filtering of the Medline and PMC open access literature yielded 91,264 documents containing at least one of the candidate UniProt IDs (Fig. 6b). We then employed a molecular event recognizer and identified events (for example, regulation relationship between two genes) in abstracts. Molecular event detection by the BioSem tool was broadened to the full-text range, whenever available from the PMC open access corpus. Finally, we filtered for events that mention candidates from our proteomics data set together with AMPK (Methods), yielding 47 molecular events. Next to the mTORC1 upstream regulator IRS1 and the mTORC1 components Raptor (RPTOR) and PRAS40 (AKT1S1), whose crosstalk with AMPK is known319, c-Jun/Jun appeared in 26% of the resulting molecular events (Fig. 6b; Supplementary Data 3). As c-Jun had to the best of our knowledge not been previously linked with nutrient stimulation, we decided to further analyse the response of c-Jun to aa readdition. Two known activating c-Jun phosphorylation sites were identified with high confidence in our phosphoproteomic data. Fragment spectra of the two c-Jun peptides containing either phosphosite are shown in Supplementary Fig. 24c. We plotted the ratios for all phosphosites at 5, 10 and 15 min aa readdition versus starved cells as volcano plots, and marked the positions of the two identified c-Jun phosphosites (Fig. 6c). As a positive control, we analysed phosphosites of the known mTORC1 downstream target ribosomal protein S6 (S6)3. S6 is the substrate of p70-S6K that is upregulated by aa37. As expected, we found that S6 phosphorylation was increased by aa at all time points. (Fig. 6c, peptides #3–5). c-Jun phosphorylation at serine 63 (Fig. 6c, peptide #2) was upregulated at all three time points, and further increased at 10 and 15 min of aa readdition. c-Jun phosphorylation at serine 73 (Fig. 6c, peptide #1) was also slightly increased ∼1.54-fold at 15 min aa readdition even though it stayed below the significance threshold. We validated this observation by immunoblotting and found that both c-Jun-pS63 and c-Jun-pS73 were upregulated by aa stimulation (Fig. 6d). In agreement with the mass spectrometry (MS) data (Fig. 6c, peptides #1,2), c-Jun phosphorylation was also in immunoblots more pronounced at S63 than at S73, and phosphorylation of the positive control S6 at serine 235/236 was increased (Fig. 6d). Thus, aa readdition enhances phosphorylation of c-Jun. To test whether this event is regulated by the CaMKKβ-AMPK axis, we combined aa stimulation with CaMKKβ inhibition by STO-609 and analysed c-Jun-pS63 and pS73 (Fig. 6e). Of note, STO-609 increased c-Jun phosphorylation, suggesting that CaMKKβ-AMPK activation by aa inhibits c-Jun activity. This could be mediated by a phosphatase or a kinase that is activated or inhibited by AMPK, respectively. Interestingly, c-Jun has been reported to suppress autophagy38, suggesting that c-Jun inhibition by CaMKKβ-AMPK could sustain autophagy under nutrient sufficiency.