A systems study reveals concurrent activation of AMPK and mTOR by amino acids
ABSTRACT
---
Amino acids (aa) are not only building blocks for proteins, but also signalling molecules, with the mammalian target of rapamycin complex 1 (mTORC1) acting as a key mediator. However, little is known about whether aa, independently of mTORC1, activate other kinases of the mTOR signalling network. To delineate aa-stimulated mTOR network dynamics, we here combine a computational–experimental approach with text mining-enhanced quantitative proteomics. We report that AMP-activated protein kinase (AMPK), phosphatidylinositide 3-kinase (PI3K) and mTOR complex 2 (mTORC2) are acutely activated by aa-readdition in an mTORC1-independent manner. AMPK activation by aa is mediated by Ca2+/calmodulin-dependent protein kinase kinase β (CaMKKβ). In response, AMPK impinges on the autophagy regulators Unc-51-like kinase-1 (ULK1) and c-Jun. AMPK is widely recognized as an mTORC1 antagonist that is activated by starvation. We find that aa acutely activate AMPK concurrently with mTOR. We show that AMPK under aa sufficiency acts to sustain autophagy. This may be required to maintain protein homoeostasis and deliver metabolite intermediates for biosynthetic processes.
No MeSH data available.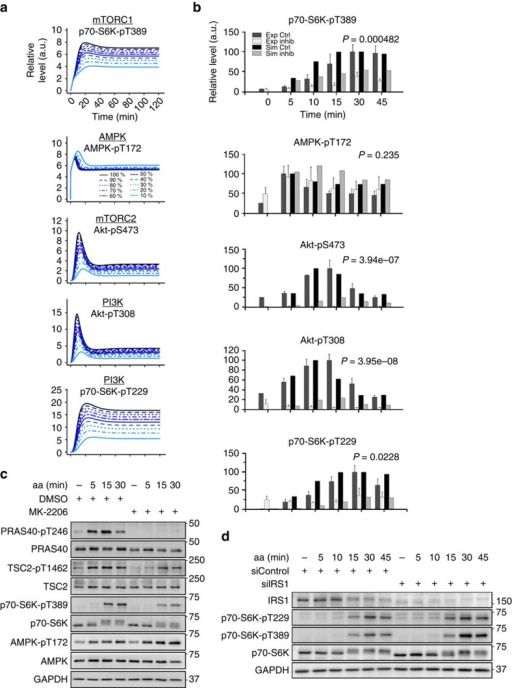 © Copyright Policy - open-access
License
getmorefigures.php?uid=PMC5121333&req=5
Mentions: The simulations correctly reproduced the behaviour of Akt and AMPK in response to wortmannin, but we noted that the experimental inhibition of p70-S6K-pT389 by wortmannin was much more prominent in the experimental data (Fig. 1c) than predicted by the model (Fig. 1b). A comparison of data obtained from simulations, and experiments for control and inhibition with wortmannin at different time points are provided in two complementary formats: as bar graphs in Fig. 1d and as scatter and line plots in Supplementary Fig. 14. Bar graphs help draw attention to the contrast between control and inhibition between simulation and experiment, whereas the scatter and line format highlights model fit to data. In either representation, it is clear that the model predictions for inhibition with wortmannin for p70-S6K-pT389 are not reproduced in the data, highlighting a poor sensitivity of the p70-S6K module to PI3K inhibition. Why did our model correctly reproduce the wortmannin response of Akt, but not of p70-S6K? Akt and p70-S6K are both AGC kinases that need to be phosphorylated twice for full activation: by PDK1 within the so-called T-loop, and by a phosphoinositide-dependent protein kinase 2 (PDK2) within the hydrophobic motif28. Although the PDK1 is identical for all AGC kinases, the identity of the PDK2 differs between AGC kinases. In the case of Akt-S473, mTORC2 is considered the major PDK2, and mTORC1 acts as the PDK2 on p70-S6K-T389: these connections were both present in our computational model. However, whereas Akt-pT308 was directly connected to PI3K, to account for the action of PDK1, there was no such connection for the PDK1 target site p70-S6K-T229 (ref. 28). We reasoned that the sensitivity of p70-S6K to PI3K in our model may be improved with inclusion of this mechanism. Thus, we added a connection between p70-S6K-T229 and PI3K-PDK1 to our model (Fig. 2a), and we recorded p70-S6K-T229 phosphorylation kinetics (Fig. 1c, quantitation in Fig. 2c,d). For model calibration, the p70-S6K-pT229 data in response to aa with and without perturbation by wortmannin were used, in addition to the full set of kinetic data in response to aa+insulin, or aa only (details on parameter estimation and identifiability analysis provided in Supplementary Tables 5–7, Supplementary Fig. 15 and methods). The comparison between simulations and data for all readouts across the network revealed a good fit for both the calibration data sets (Fig. 2b,c) and for the kinetic data upon aa stimulation that was part of the wortmannin perturbation data set (Fig. 2d). Comparison of Supplementary Fig. 13b with Fig. 2c shows that inclusion of the direct PI3K/PDK1-p70-S6K link into the model decreased the fit for some readouts, such as Akt-pT308, Akt-pS473 and AMPK-pT172 in response to aa+insulin. Yet, we judged it more important that the fit was much improved for p70-S6K-pT389 (Fig. 2d), as compared with a model without the PDK1-p70-S6K link (Supplementary Fig. 13c). The simulation of p70-S6K-pT389 now showed sensitivity to a simulated PI3K inhibition (Fig. 3a), within the same range as in our wortmannin experiments (Figs 3b and 1c; Supplementary Fig. 16). The effects of aa stimulation and wortmannin in terms of increase or decrease of readouts, including Akt-pT308, Akt-pS473 and AMPK-pT172, remained consistent between simulations and measured data across the time course. The model predicted a gradual reduction for p70-S6K-pT229 upon gradual PI3K inhibition (Fig. 3a), and this inhibitory effect was confirmed experimentally (Figs 3b and 1c; Supplementary Fig. 16). The AMPK-pT172 simulation showed a slight increase upon PI3K inhibition, possibly as a result of a more pronounced mTORC1-dependent NFL inhibition. Although the experimental data recapitulated this tendency, the effect was too small to be statistically significant (Fig. 3b; Supplementary Fig. 16). The conclusion remained that the AMPK response to aa is not mediated by PI3K, whereas PI3K mediates aa signals to Akt, mTORC1 and p70-S6K.