Novel method to characterize CYP21A2 in Florida patients with congenital adrenal hyperplasia and commercially available cell lines
ABSTRACT
---
Congenital adrenal hyperplasia (CAH) is an autosomal recessive disorder and affects approximately 1 in 15,000 births in the United States. CAH is one of the disorders included on the Newborn Screening (NBS) Recommended Uniform Screening Panel. The commonly used immunological NBS test is associated with a high false positive rate and there is interest in developing second-tier assays to increase screening specificity. Approximately 90% of the classic forms of CAH, salt-wasting and simple virilizing, are due to mutations in the CYP21A2 gene. These include single nucleotide changes, insertions, deletions, as well as chimeric genes involving CYP21A2 and its highly homologous pseudogene CYP21A1P. A novel loci-specific PCR approach was developed to individually amplify the CYP21A2 gene, the nearby CYP21A1P pseudogene, as well as any 30 kb deletion and gene conversion mutations, if present, as single separate amplicons. Using commercially available CAH positive specimens and 14 families with an affected CAH proband, the single long-range amplicon approach demonstrated higher specificity as compared to previously published methods.
No MeSH data available.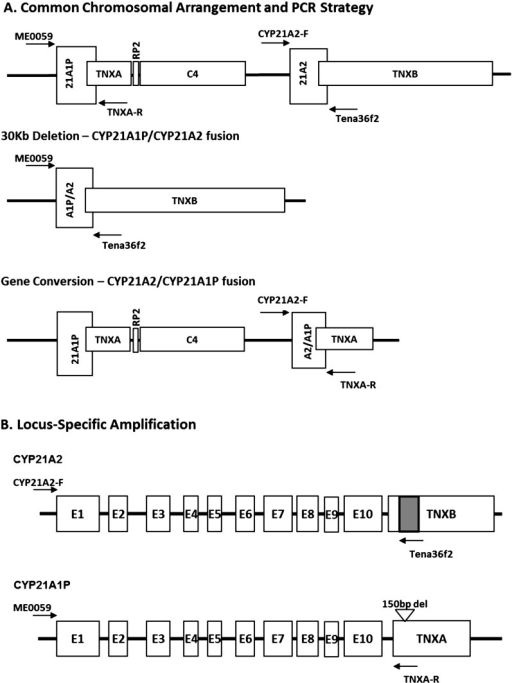 © Copyright Policy - CC BY-NC-ND
License
getmorefigures.php?uid=PMC5121304&req=5
Mentions: The PCR amplifications span the entire gene region from the promoters for both CYP21A2 and CYP21A1P to the downstream TNXB and TNXA genes for CYP21A2 and CYP21A1P, respectively (Fig. 1). An internal positive amplification control of AVPR2, located on the X chromosome (primers ME0004, ME0027) was duplexed in the reactions [21]. The expected sizes of the PCR products are as follows: CYP21A2—5.6 kb, CYP21A1P—6.1 kb, 30 kb deletion (CYP21A1P/CYP21A2 gene chimera)—6.2 kb, large-scale conversion (CYP21A2/CYP21A1P gene chimera)—5.5 kb and AVPR2—1.1 kb. Reference sequences for nucleotide variation for CYP21A2 are based on GenBank accession NM_000500.6 and protein sequences are based on GenBank accession NP_000491.2. PCR amplification was performed on a Gene Amp 9700 thermal cycler (Life Technologies). PCR reactions were performed in 25 μl total volume containing 25 ng of genomic DNA extracted from either whole blood or from DBS, 2X EmeraldAmp MAX HS PCR Master Mix (Takara, Otsu, Shiga, Japan), 0.2 μM of each test primer, 0.032 μM of control primers with the following touch-down cycling program: 98 °C for 3 min; 22 cycles of 98 °C for 10 s, 68 °C for 30 s (reduced 1 °C every 2 cycles), and 72 °C for 6 min followed by 25 cycles of 98 °C for 10 s, 57 °C for 30 s, and 72 °C for 6 min with a final 72 °C extension for 10 min and a hold at 4 °C. Products were visualized on a 0.9% agarose gel stained with ethidium bromide. Each PCR product was prepared for DNA sequencing with 5 μl of Exo SAP-IT (Affymetrix, Santa Clara, CA) and incubated at 37 °C for 30 min and heat-inactivated at 80 °C for 20 min. Products were diluted 1:50 in molecular biology grade water for Sanger cycle sequencing using 1:8 dilutions of BigDye Terminator V1.1 (Life Technologies) and sequencing primers as previously described (Table 1) [21]. Cycle sequencing products were purified using BigDye Xterminator and run on the 3730 DNA Analyzer (Life Technologies). Gene copy number analysis was performed by multiple ligation dependent probe amplification (MLPA) with the SALSA P050B2 Congenital Adrenal Hyperplasia kit following manufacturer's instructions and fragments were separated on the 3730xl DNA Analyzer (MRC-Holland, Amsterdam).