Comparative Genomic Analysis of the GRF Genes in Chinese Pear ( Pyrus bretschneideri Rehd ), Poplar ( Populous ), Grape ( Vitis vinifera ), Arabidopsis and Rice ( Oryza sativa )
ABSTRACT
---
Growth-regulating factors (GRFs) are plant-specific transcription factors that have important functions in regulating plant growth and development. Previous studies on GRF family members focused either on a single or a small set of genes. Here, a comparative genomic analysis of the GRF gene family was performed in poplar (a model tree species), Arabidopsis (a model plant for annual herbaceous dicots), grape (one model plant for perennial dicots), rice (a model plant for monocots) and Chinese pear (one of the economical fruit crops). In total, 58 GRF genes were identified, 12 genes in rice (Oryza sativa), 8 genes in grape (Vitis vinifera), 9 genes in Arabidopsis thaliana, 19 genes in poplar (Populus trichocarpa) and 10 genes in Chinese pear (Pyrus bretschneideri). The GRF genes were divided into five subfamilies based on the phylogenetic analysis, which was supported by their structural analysis. Furthermore, microsynteny analysis indicated that highly conserved regions of microsynteny were identified in all of the five species tested. And Ka/Ks analysis revealed that purifying selection plays an important role in the maintenance of GRF genes. Our results provide basic information on GRF genes in five plant species and lay the foundation for future research on the functions of these genes.
No MeSH data available.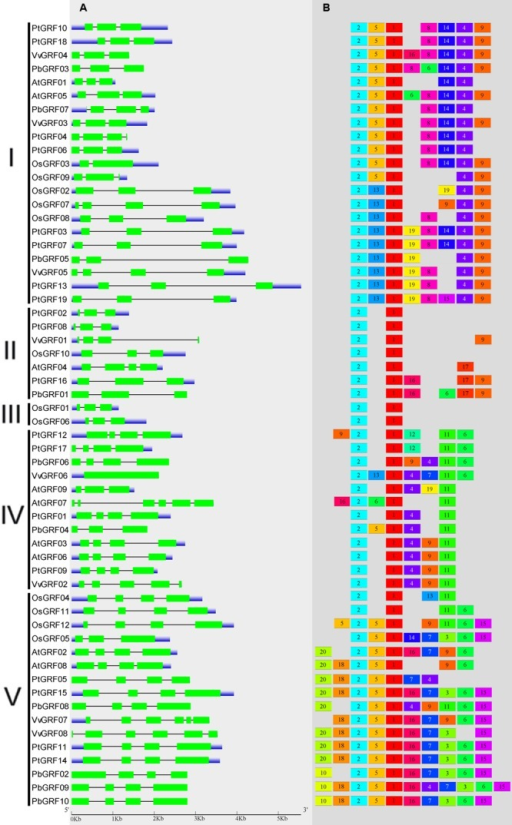 © Copyright Policy
License
getmorefigures.php?uid=PMC5121280&req=5
Mentions: To gain more insights into the structural diversity of GRF genes, exon-intron pattern maps of the individual GRF genes were generated. As shown in Figure 3A, the 58 GRF genes contained different numbers of exons, varying from 1 to 6. We found that 27 GRF genes had four introns and 25 had three exons, three genes had six introns and one had five exons, one gene had two exons, and vGRF06 had only one exon. These results implied that both of exon gain and loss occurred during the evolution of GRF genes, which may help to explain the functional diversity of closely related GRF genes. Exon-intron structures of the paralogous and orthologous GRF gene pairs were further analyzed. Among these gene pairs, the exon number of five gene pairs exhibits exon-intron gain or loss variations, including PtGRF04/PtGRF06, OsGRF02/OsGRF07, PbGRF06/VvGRF06, PtGRF01/PbGRF04, and PtGRF09/VvGRF02 (Figure 3A). In comparing the five gene pairs, PtGRF06, OsGRF02, PbGRF04 and PtGRF09 lost one exon whereas PtGRF04, OsGRF07, PtGRF01 and VvGRF02 gained one exon during the long evolutionary period. We speculated that these differences are possibly due to a single intron gain or loss event during the long evolutionary period.