Comparative Genomic Analysis of the GRF Genes in Chinese Pear ( Pyrus bretschneideri Rehd ), Poplar ( Populous ), Grape ( Vitis vinifera ), Arabidopsis and Rice ( Oryza sativa )
ABSTRACT
---
Growth-regulating factors (GRFs) are plant-specific transcription factors that have important functions in regulating plant growth and development. Previous studies on GRF family members focused either on a single or a small set of genes. Here, a comparative genomic analysis of the GRF gene family was performed in poplar (a model tree species), Arabidopsis (a model plant for annual herbaceous dicots), grape (one model plant for perennial dicots), rice (a model plant for monocots) and Chinese pear (one of the economical fruit crops). In total, 58 GRF genes were identified, 12 genes in rice (Oryza sativa), 8 genes in grape (Vitis vinifera), 9 genes in Arabidopsis thaliana, 19 genes in poplar (Populus trichocarpa) and 10 genes in Chinese pear (Pyrus bretschneideri). The GRF genes were divided into five subfamilies based on the phylogenetic analysis, which was supported by their structural analysis. Furthermore, microsynteny analysis indicated that highly conserved regions of microsynteny were identified in all of the five species tested. And Ka/Ks analysis revealed that purifying selection plays an important role in the maintenance of GRF genes. Our results provide basic information on GRF genes in five plant species and lay the foundation for future research on the functions of these genes.
No MeSH data available.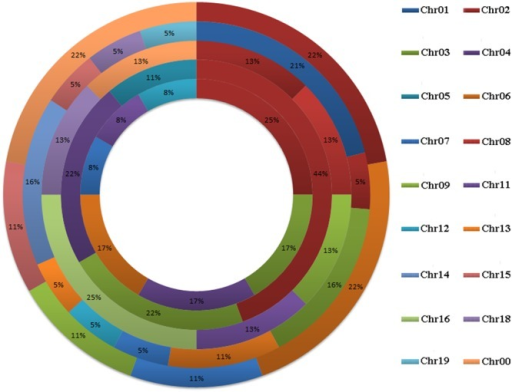 © Copyright Policy
License
getmorefigures.php?uid=PMC5121280&req=5
Mentions: A total of 58 GRF genes were identified from the five species studied, with 10 in pear (PbGRF01 to PbGRF10), 19 in poplar (PtGRF01 to PtGRF19), 9 in Arabidopsis (AtGRF01 to AtGRF09), 8 in grape (VvGRF01 to VvGRF08) and 12 in Oryza sativa (OsGRF01 to OsGRF12), respectively. In addition, we determined the physical location of GRF genes on the chromosomes according to the overall search in the complete genome sequences of the five plant species (Supplementary Table S1). The results showed that the distribution of the 58 GRF genes among the chromosomes of the five species was not even (Figure 1). In the Arabidopsis and Oryza sativa genomes, the GRF genes were mainly distributed on chromosome 2, chromosome 3 (2) and chromosome 4 (2). For grape, GRF genes were found on chromosomes 2, 8, 9, 11, 16, and 18. In poplar, GRF genes were distributed on chromosomes 1, 2, 3, 6, 7, 12, 13, 14, 15, 18, and 19. In pear, we found GRF genes on chromosomes 2, 6, 7, 9, and 15. Additionally, three GRF genes (VvGRF08, PbGRF08, and PbGRF09) could not be mapped to any chromosome in the grape or pear genomes (Supplementary Table S1).