Disease consequences of human adaptation ☆
ABSTRACT
---
Adaptive evolution has provided us with a unique set of characteristics that define us as humans, including morphological, physiological and cellular changes. Yet, natural selection provides no assurances that adaptation is without human health consequences; advantageous mutations will increase in frequency so long as there is a net gain in fitness. As such, the current incidence of human disease can depend on previous adaptations. Here, I review genome-wide and gene-specific studies in which adaptive evolution has played a role in shaping human genetic disease. In addition to the disease consequences of adaptive phenotypes, such as bipedal locomotion and resistance to certain pathogens, I review evidence that adaptive mutations have influenced the frequency of linked disease alleles through genetic hitchhiking. Taken together, the links between human adaptation and disease highlight the importance of their combined influence on functional variation within the human genome and offer opportunities to discover and characterize such variation.
No MeSH data available.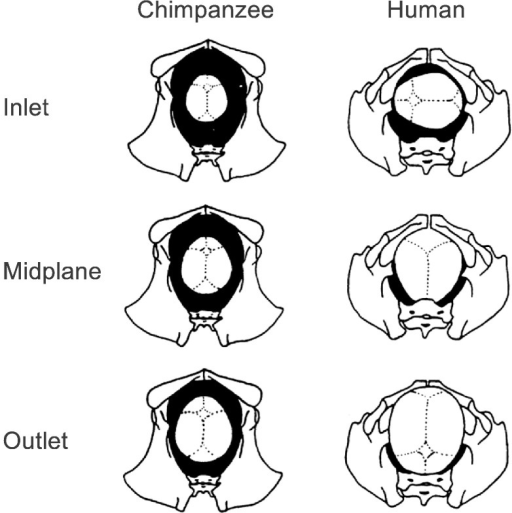 © Copyright Policy - CC BY-NC-ND
License
getmorefigures.php?uid=PMC5121272&req=5
Mentions: Perhaps one of the most clear health consequences of human adaptation is our cephalopelvic disproportion. The combination of our larger brain size with a more narrow pelvis, which facilitates bipedal locomotion, has greatly complicated labor and delivery (Rosenberg and Trevathan, 2002). While the chimpanzee neonatal cranium can easily pass through the pelvis, the head of human neonates must twist and compress as it passes through the pelvis (Fig. 1). In modern humans, unassisted childbirth is exceedingly rare, and with advent of modern medicine mortality rates associated with childbirth are currently 40–50 times lower than even 70 years ago (Loudon, 2000). The dramatic cephalopelvic changes that have occurred during human evolution in comparison to changes in gestation length is one line of evidence supporting the hypothesis that humans have evolved to give birth earlier than other primates, at least on a developmental timescale (Montagu, 1961, Plunkett et al., 2011). The abundance of altricial characters in human neonates compared to neonates of other primates, such as skull development (Penin et al., 2002), emergence of teeth (Holly Smith et al., 1994) and vision (Boothe et al., 1985), lends further support to this hypothesis. Being born early, and especially too early, might alleviate the cephalopelvic disproportion, but also raises a different set of health challenges faced by neonates, e.g. ear and sinus infections (Bluestone, 2005, Behrman and Butler, 2006).