Phylooncogenomics: Examining the cancer genome in the context of vertebrate evolution ☆
ABSTRACT
---
Currently, human cancer genomics is making great progress, and many mutations of new cancer driver genes have been detected at an unprecedented rate in a variety of human cancers. Many details of the genetic alterations in cancer cell genomes have been revealed by the massively parallel sequencing. Long-lasting aneuploidy caused large-scale somatic copy number alterations remains a difficulty as there are too many genes located on such big chromosomal fragments, and this cannot simply be solved by increasing sequencing depth and tumor sample numbers. Comparative oncogenomics may provide us with a solution to this problem. Here, we review some of the common animal cancer models and propose to analyze cancer cell genomics in vertebrate phylogenetic backgrounds. Thus phylooncogenomics may provide us with a unique perspective on he nature of cancer biology unattainable by single species studies.
No MeSH data available.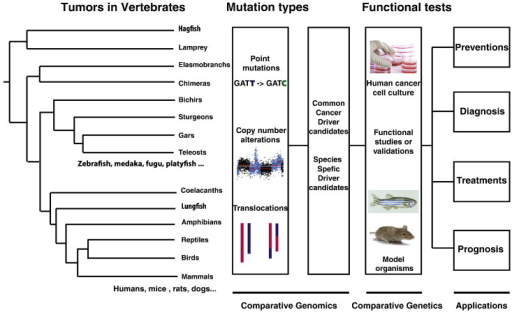 © Copyright Policy - CC BY-NC-ND
License
getmorefigures.php?uid=PMC5121254&req=5
Mentions: Although mouse–human and zebrafish–human cancer genomic comparisons are helpful to pinpoint the cancer driver genes on large CNAs in corresponding human tumors, this comparative approach should not be limited to two species only. Comparison of cancer genomics from multiple vertebrate species will be more powerful to narrow down the scope of cancer driver genes on the large scales CNAs. The early vertebrates, chondrichthyes, may be particularly interesting, as their genomes were not duplicated as teleosts (Venkatesh et al., 2007). The increased phylogenetic distance of these cartilaginous fishes to human could be useful to breakdown the chromosomally linked drivers and passengers. However, at the current time, the zebrafish is particularly useful as it is a model organism whose genomic and other biological infrastructures are much more mature compared to other non-model organisms. With advances in current sequencing technologies, we expect that other fish tumor models will play their roles in the future. For example, platyfish and lamprey genomes have recently been published (Schartl et al., 2013, Smith et al., 2013). Ultimately, multiple species tumor comparison could further reduce the passenger genes in a given tumor, thus we coined the word "phylooncogenomics" to accommodate this approach (Fig. 3). Common evolutionarily conserved cancer drivers and species-specific drivers can be identified and functionally tested in this way. For example, cancer genomes of MPNSTs from human (Beert et al., 2011, Brekke et al., 2010), mouse (Cichowski et al., 1999, Vogel et al., 1999), Tasmanian devil (Murchison et al., 2010, Murchison et al., 2012) and zebrafish (Zhang et al., 2010) DNA could be compared in the future to identify common shared cancer drivers and biological tumorigenic mechanisms. Another potential candidate for tumor phylooncogenomic studies could be melanomas from human (Gast et al., 2010, Stark and Hayward, 2007), mouse (O'Hagan et al., 2003), zebrafish (Patton et al., 2005), medaka (Schartl et al., 2010) and platyfish (Xiphophorus) (Meierjohann and Schartl, 2006). The platyfish itself is a long used melanoma model as certain hybrid species naturally develop a variety of degrees of melanoma (Meierjohann and Schartl, 2006).