Phylooncogenomics: Examining the cancer genome in the context of vertebrate evolution ☆
ABSTRACT
---
Currently, human cancer genomics is making great progress, and many mutations of new cancer driver genes have been detected at an unprecedented rate in a variety of human cancers. Many details of the genetic alterations in cancer cell genomes have been revealed by the massively parallel sequencing. Long-lasting aneuploidy caused large-scale somatic copy number alterations remains a difficulty as there are too many genes located on such big chromosomal fragments, and this cannot simply be solved by increasing sequencing depth and tumor sample numbers. Comparative oncogenomics may provide us with a solution to this problem. Here, we review some of the common animal cancer models and propose to analyze cancer cell genomics in vertebrate phylogenetic backgrounds. Thus phylooncogenomics may provide us with a unique perspective on he nature of cancer biology unattainable by single species studies.
No MeSH data available.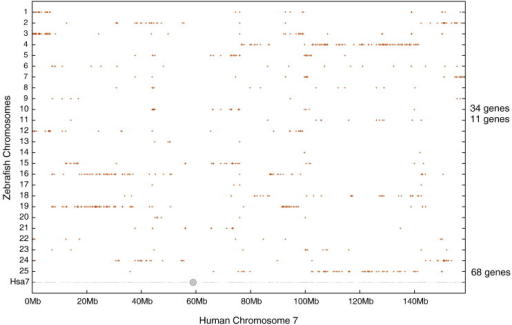 © Copyright Policy - CC BY-NC-ND
License
getmorefigures.php?uid=PMC5121254&req=5
Mentions: In human malignant peripheral nerve sheath tumors and many other human cancers, the most frequently over-represented chromosome is 7, followed by 8q, and 17q (Beert et al., 2011, Brekke et al., 2010). In zebrafish MPNSTs, the most frequently over-represented chromosome is 25, followed by 11, 10, 23 and 22 (Zhang et al., 2010). Human chromosome 7 alone possesses ~ 1750 genes. In contrast, there are only 68 on fish chromosome 25, 18 on chromosome 11, and 34 on chromosome 10 (Fig. 2). As the presence of unbalanced chromosomes is the result of tumor evolution selection, these common genes could be candidates that underlie the growth advantage conferred by extra copies of human chromosome 7. The same logic can be applied to genes that lie on chromosomes that are under-represented in both fish and human tumors and generating a list of genes whose under-representation favors tumor growth. In humans, the MET oncogene lies on chromosome 7. Amplification of chromosome 7 carrying a mutated form of MET underlies an inherited cancer in humans (Lee et al., 2000, Schmidt et al., 1997). It is thought that the presence of wild-type MET may explain, at least in part, the frequent over-representation of chromosome 7 in many human cancers (Grabellus et al., 2010, Jenkins et al., 1998, Zhuang et al., 1998). Strikingly, the zebrafish met gene lies on fish chromosome 25. One of other genes also presented in the overrepresented zebrafish chromosome 25 is fgf6a. We have shown that fgf over-expression accelerates the onset of MPNSTs in combination with a p53 mutation, demonstrating that fgf is probably a driver in fish MPNSTs (Zhang et al., 2010). This result indicates that there are at least two drivers on chromosomes that are over-represented in fish tumors and it is possible that there are more. This discovery is consistent with the report of multiple tumor suppressors in chromosomal region 8p22 (Solimini et al., 2012, Xue et al., 2012). Combined with genetic functional validations, the zebrafish model provides us a unique model to catalogue human cancer drivers on the recalcitrant large scale CNAs.