Small RNAs from Bemisia tabaci Are Transferred to Solanum lycopersicum Phloem during Feeding
ABSTRACT
---
The phloem-feeding whitefly Bemisia tabaci is a serious pest to a broad range of host plants, including many economically important crops such as tomato. These insects serve as a vector for various devastating plant viruses. It is known that whiteflies are capable of manipulating host-defense responses, potentially mediated by effector molecules in the whitefly saliva. We hypothesized that, beside putative effector proteins, small RNAs (sRNA) are delivered by B. tabaci into the phloem, where they may play a role in manipulating host plant defenses. There is already evidence to suggest that sRNAs can mediate the host-pathogen dialogue. It has been shown that Botrytis cinerea, the causal agent of gray mold disease, takes advantage of the plant sRNA machinery to selectively silence host genes involved in defense signaling. Here we identified sRNAs originating from B. tabaci in the phloem of tomato plants on which they are feeding. sRNAs were isolated and sequenced from tomato phloem of whitefly-infested and control plants as well as from the nymphs themselves, control leaflets, and from the infested leaflets. Using stem-loop RT-PCR, three whitefly sRNAs have been verified to be present in whitefly-infested leaflets that were also present in the whitefly-infested phloem sample. Our results show that whitefly sRNAs are indeed present in tomato tissues upon feeding, and they appear to be mobile in the phloem. Their role in the host-insect interaction can now be investigated.
No MeSH data available.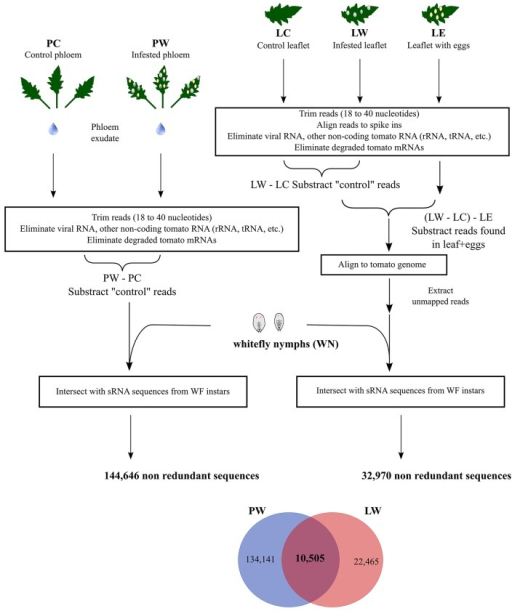 © Copyright Policy
License
getmorefigures.php?uid=PMC5121246&req=5
Mentions: Phloem samples were collected from uninfested tomato leaflets (Phloem control, PC) and compared to phloem samples from tomato leaflets infested with whitefly nymphs and eggs (Phloem whitefly, PW, Figure 1). Whitefly nymphs (WN) were separately collected from leaflets of the same plants used to obtain phloem sap exudates (Figure 1). After sRNA sequencing we obtained 31,231,948 sRNAs in the WN sample and 5,370,176 and 7,321,768 sRNAs in the PC and PW samples respectively (see also Table S1). To determine which sRNAs originated from whiteflies and were present in phloem, a bioinformatic pipeline was designed (Figure 1). For this analysis, sequences shorter than 18 nucleotides (nts) and longer than 40 nts were removed. Next, we removed sequences that aligned to plant viruses (Adams and Antoniw, 2006), other types of RNA (rRNA, tRNA, snoRNA, degraded messenger RNA, mitochondrial RNA) using the RFAM 12.0 database for tomatoes (excluding microRNA; Nawrocki et al., 2015) and the publically available tomato transcriptome (ITAG2.3, Tomato Genome Consortium, 2012). To eliminate sequences present in PW but unrelated to whitefly infestation, PC sRNAs were excluded from the PW sRNAs (PW–PC, Figure 1). Of these PW-PC sRNAs a final 144,646 non-redundant sequences overlapped with WN sequence (Figure 1, Table S1) and were regarded as putatively transferred from the insect into the phloem.