Muscle-Type Nicotinic Receptor Modulation by 2,6-Dimethylaniline, a Molecule Resembling the Hydrophobic Moiety of Lidocaine
ABSTRACT
---
To identify the molecular determinants responsible for lidocaine blockade of muscle-type nAChRs, we have studied the effects on this receptor of 2,6-dimethylaniline (DMA), which resembles lidocaine's hydrophobic moiety. Torpedo marmorata nAChRs were microtransplanted to Xenopus oocytes and currents elicited by ACh (IACh), either alone or co-applied with DMA, were recorded. DMA reversibly blocked IACh and, similarly to lidocaine, exerted a closed-channel blockade, as evidenced by the enhancement of IACh blockade when DMA was pre-applied before its co-application with ACh, and hastened IACh decay. However, there were marked differences among its mechanisms of nAChR inhibition and those mediated by either the entire lidocaine molecule or diethylamine (DEA), a small amine resembling lidocaine's hydrophilic moiety. Thereby, the IC50 for DMA, estimated from the dose-inhibition curve, was in the millimolar range, which is one order of magnitude higher than that for either DEA or lidocaine. Besides, nAChR blockade by DMA was voltage-independent in contrast to the increase of IACh inhibition at negative potentials caused by the more polar lidocaine or DEA molecules. Accordingly, virtual docking assays of DMA on nAChRs showed that this molecule binds predominantly at intersubunit crevices of the transmembrane-spanning domain, but also at the extracellular domain. Furthermore, DMA interacted with residues inside the channel pore, although only in the open-channel conformation. Interestingly, co-application of ACh with DEA and DMA, at their IC50s, had additive inhibitory effects on IACh and the extent of blockade was similar to that predicted by the allotopic model of interaction, suggesting that DEA and DMA bind to nAChRs at different loci. These results indicate that DMA mainly mimics the low potency and non-competitive actions of lidocaine on nAChRs, as opposed to the high potency and voltage-dependent block by lidocaine, which is emulated by the hydrophilic DEA. Furthermore, it is pointed out that the hydrophobic (DMA) and hydrophilic (DEA) moieties of the lidocaine molecule act differently on nAChRs and that their separate actions taken together account for most of the inhibitory effects of the whole lidocaine molecule on nAChRs.
No MeSH data available.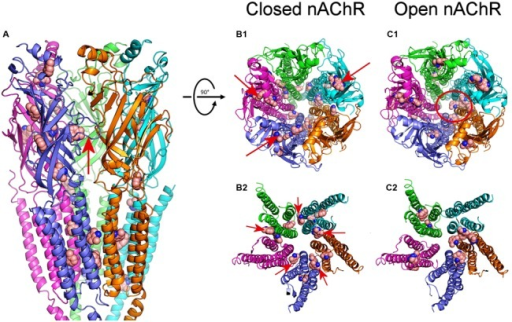 © Copyright Policy
License
getmorefigures.php?uid=PMC5121239&req=5
Mentions: We have explored the interactions between DMA and the nAChR, using as template the full structure of Torpedo nAChR in both closed and open conformations (see Materials and Methods). We carried out 500 runs for DMA-nAChR interactions for both the closed and the open states. For the closed state, we found 60 clusters of interaction sites that differ in less than 5 Å of root-mean-square-deviation. DMA clusters on the nAChR were mainly located at the TM (52%) and EC (46%) domains, with only 1 cluster sited at the intracellular (IC) domain, sited adjacent to the TM region (Figure 10A). On the TM domain, DMA interacted both at intrasubunit crevices and at intersubunit interfaces, being these latter ones the more numerous, involving each single pair of nAChR subunits (Figures 10B1,B2). Interestingly, we found discernable changes on DMA binding to the TM domains in the closed and open states. Thus, in closed nAChRs DMA interacted preferentially with residues located at intra- and intersubunit spots but not into the channel pore (Figures 10B1,B2), whereas in the open state the hotspots for DMA were less numerous at intersubunit crevices (compare panels B2,C2 of Figure 10) and some appeared inside the channel pore (Figure 10C1, red circle). Noticeably, DMA binding sites on nAChR at the TM domain follow a pattern similar to that found for the entire lidocaine molecule on this receptor (see Supplementary Figure S1; Alberola-Die et al., 2016). At the EC domain, DMA bound at several intrasubunit crevices, mainly located on α1, α2, and β subunits (Figure 10A) and at the interface of α1-γ, γ-α2, δ-β, and β-α1 subunits. DMA was not found occupying the orthosteric sites, though there was a hotspot for DMA at the α1-γ interface relatively close to the ligand-binding site (Figure 10A).