Muscle-Type Nicotinic Receptor Modulation by 2,6-Dimethylaniline, a Molecule Resembling the Hydrophobic Moiety of Lidocaine
ABSTRACT
---
To identify the molecular determinants responsible for lidocaine blockade of muscle-type nAChRs, we have studied the effects on this receptor of 2,6-dimethylaniline (DMA), which resembles lidocaine's hydrophobic moiety. Torpedo marmorata nAChRs were microtransplanted to Xenopus oocytes and currents elicited by ACh (IACh), either alone or co-applied with DMA, were recorded. DMA reversibly blocked IACh and, similarly to lidocaine, exerted a closed-channel blockade, as evidenced by the enhancement of IACh blockade when DMA was pre-applied before its co-application with ACh, and hastened IACh decay. However, there were marked differences among its mechanisms of nAChR inhibition and those mediated by either the entire lidocaine molecule or diethylamine (DEA), a small amine resembling lidocaine's hydrophilic moiety. Thereby, the IC50 for DMA, estimated from the dose-inhibition curve, was in the millimolar range, which is one order of magnitude higher than that for either DEA or lidocaine. Besides, nAChR blockade by DMA was voltage-independent in contrast to the increase of IACh inhibition at negative potentials caused by the more polar lidocaine or DEA molecules. Accordingly, virtual docking assays of DMA on nAChRs showed that this molecule binds predominantly at intersubunit crevices of the transmembrane-spanning domain, but also at the extracellular domain. Furthermore, DMA interacted with residues inside the channel pore, although only in the open-channel conformation. Interestingly, co-application of ACh with DEA and DMA, at their IC50s, had additive inhibitory effects on IACh and the extent of blockade was similar to that predicted by the allotopic model of interaction, suggesting that DEA and DMA bind to nAChRs at different loci. These results indicate that DMA mainly mimics the low potency and non-competitive actions of lidocaine on nAChRs, as opposed to the high potency and voltage-dependent block by lidocaine, which is emulated by the hydrophilic DEA. Furthermore, it is pointed out that the hydrophobic (DMA) and hydrophilic (DEA) moieties of the lidocaine molecule act differently on nAChRs and that their separate actions taken together account for most of the inhibitory effects of the whole lidocaine molecule on nAChRs.
No MeSH data available.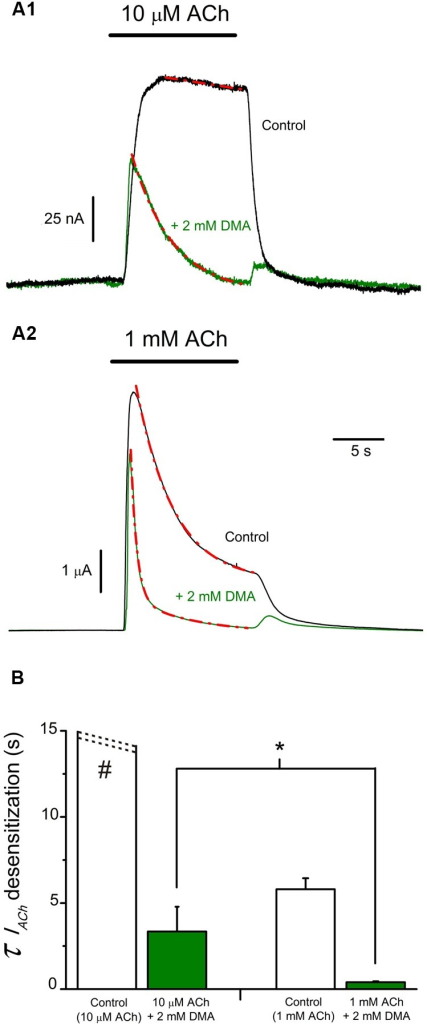 © Copyright Policy
License
getmorefigures.php?uid=PMC5121239&req=5
Mentions: Since co-application of ACh with 2 mM DMA elicits rebound-currents during the washout, suggesting that DMA can plug the channel pore, the acceleration of IACh decay could be due either to an enhancement of nAChR desensitization or to a slow binding of DMA to the channel pore. In order to differentiate between both mechanisms, we co-applied 2 mM DMA with two different concentrations of ACh (10 μM and 1 mM) at +40 mV (Figures 6A1,A2), because at this membrane potential ACh does not contribute to the open-channel blockade. Co-application of 10 μM ACh with 2 mM DMA inhibited IACh by 50.0 ± 9.3% (n = 4; N = 3), as it would be expected from the dose-inhibition curve (Figure 1C), and there was a pronounced acceleration of IACh decay, which followed a single exponential function (Figure 6A1, red discontinuous line), with a time-constant (τ) of 3.34 ± 1.44 s (Figure 6B). When the same concentration of DMA was co-applied with 1 mM ACh, the IACh decreased by only 35.4 ± 4.3% (see Figures 6A2 and 7A1) and the IACh decayed following a double exponential function (Figure 6A2, red discontinuous line), with a τ value for the fast component of 0.40 ± 0.05 s (Figure 6B). Given the large differences in the τ values for the IACh decay caused by the same DMA concentration when co-applied with two different ACh concentrations, it follows that the acceleration of IACh decay by DMA cannot only be explained by its binding into the channel pore, acting as an open-channel blocker, but rather it points out that DMA actually enhances nAChR desensitization.