Gene Expression Dynamics in Major Endocrine Regulatory Pathways along the Transition from Solitary to Social Life in a Bumblebee, Bombus terrestris
ABSTRACT
---
Understanding the social evolution leading to insect eusociality requires, among other, a detailed insight into endocrine regulatory mechanisms that have been co-opted from solitary ancestors to play new roles in the complex life histories of eusocial species. Bumblebees represent well-suited models of a relatively primitive social organization standing on the mid-way to highly advanced eusociality and their queens undergo both, a solitary and a social phase, separated by winter diapause. In the present paper, we characterize the gene expression levels of major endocrine regulatory pathways across tissues, sexes, and life-stages of the buff-tailed bumblebee, Bombus terrestris, with special emphasis on critical stages of the queen's transition from solitary to social life. We focused on fundamental genes of three pathways: (1) Forkhead box protein O and insulin/insulin-like signaling, (2) Juvenile hormone (JH) signaling, and (3) Adipokinetic hormone signaling. Virgin queens were distinguished by higher expression of forkhead box protein O and downregulated insulin-like peptides and JH signaling, indicated by low expression of methyl farnesoate epoxidase (MFE) and transcription factor Krüppel homolog 1 (Kr-h1). Diapausing queens showed the expected downregulation of JH signaling in terms of low MFE and vitellogenin (Vg) expressions, but an unexpectedly high expression of Kr-h1. By contrast, reproducing queens revealed an upregulation of MFE and Vg together with insulin signaling. Surprisingly, the insulin growth factor 1 (IGF-1) turned out to be a queen-specific hormone. Workers exhibited an expression pattern of MFE and Vg similar to that of reproducing queens. Males were characterized by high Kr-h1 expression and low Vg level. The tissue comparison unveiled an unexpected resemblance between the fat body and hypopharyngeal glands across all investigated genes, sexes, and life stages.
No MeSH data available.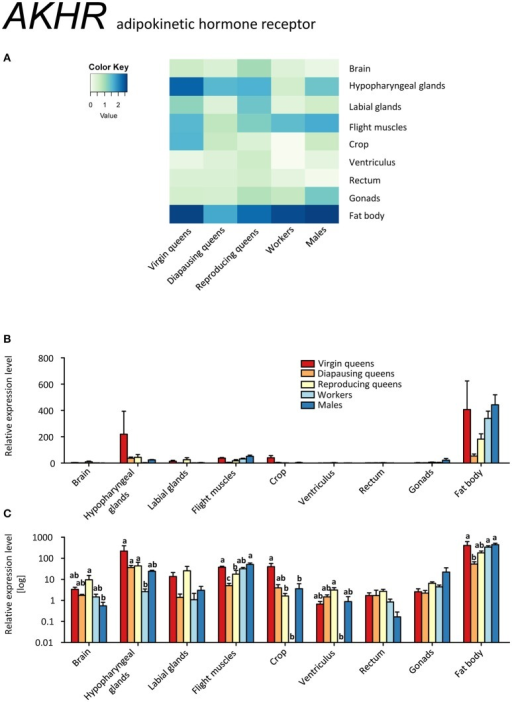 © Copyright Policy
License
getmorefigures.php?uid=PMC5121236&req=5
Mentions: AKHR was ubiquitously expressed across all samples (Figures 10A–C, Supplementary Table S2). Its highest expression was observed in the fat body and flight muscles, as expected for a receptor involved in the release of carbohydrates and lipids upon high energy demand (Gäde and Auerswald, 2003; Gäde, 2009). Motionless, diapausing queens had the lowest levels, in agreement with their low energy demand. Surprisingly high expression levels of AKHR were recorded in hypopharyngeal glands, especially in virgin queens. As for other genes, AKHR expression in hypopharyngeal glands paralleled that of fat bodies. Whereas the presence of hypopharyngeal glands across bumblebee sexes and castes, as well as the synthesis of royal jelly-like protein within its cells, were reported recently (Albert et al., 2014), the overall significance of the glands remains unresolved. It was proposed that the original role of major royal jelly proteins was pre-digestive food modification, comparable to saliva (Kupke et al., 2012), and that the nutritive function seen in honeybees is derived. Similarly, the hypopharyngeal glands secretion contains digestive enzymes such as amylase and invertase (Pereboom, 2000). These reports together with our findings point to common mechanisms of endocrine regulation for food uptake and digestion as well as nutrient storage and release. Since AKH is actively involved in the control of digestive processes (Bodláková et al., 2016 and references therein), we propose that the high AKHR expression in hypopharyngeal glands is related to the regulation of digestive enzymes via AKH signaling.