Emergence of Selectivity to Looming Stimuli in a Spiking Network Model of the Optic Tectum
ABSTRACT
---
The neural circuits in the optic tectum of Xenopus tadpoles are selectively responsive to looming visual stimuli that resemble objects approaching the animal at a collision trajectory. This selectivity is required for adaptive collision avoidance behavior in this species, but its underlying mechanisms are not known. In particular, it is still unclear how the balance between the recurrent spontaneous network activity and the newly arriving sensory flow is set in this structure, and to what degree this balance is important for collision detection. Also, despite the clear indication for the presence of strong recurrent excitation and spontaneous activity, the exact topology of recurrent feedback circuits in the tectum remains elusive. In this study we take advantage of recently published detailed cell-level data from tadpole tectum to build an informed computational model of it, and investigate whether dynamic activation in excitatory recurrent retinotopic networks may on its own underlie collision detection. We consider several possible recurrent connectivity configurations and compare their performance for collision detection under different levels of spontaneous neural activity. We show that even in the absence of inhibition, a retinotopic network of quickly inactivating spiking neurons is naturally selective for looming stimuli, but this selectivity is not robust to neuronal noise, and is sensitive to the balance between direct and recurrent inputs. We also describe how homeostatic modulation of intrinsic properties of individual tectal cells can change selectivity thresholds in this network, and qualitatively verify our predictions in a behavioral experiment in freely swimming tadpoles.
No MeSH data available.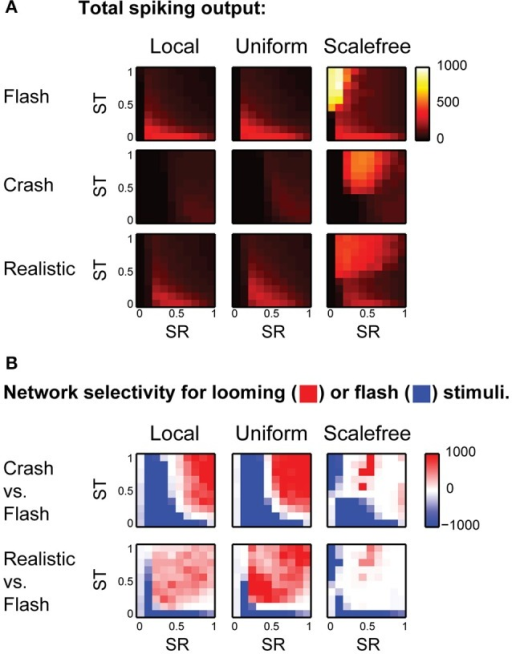 © Copyright Policy
License
getmorefigures.php?uid=PMC5121234&req=5
Mentions: The summary statistics of spiking output in the tectum. (A) Averages (markers) and standard deviations (error bars) of the number of spikes per neuron generated by the tectum during responses to different visual stimuli, in models with different recurrent connectivity profiles (A–C), and in physiological data [D, data from Khakhalin et al. (2014) Figure 4]. Here "f" stands for "flash," "s" for "scrambled," "c" for "crash," "r" for realistic, and for physiological data "g" stands for "grid" (a stimulus that can be considered analogous to the "scrambled" stimulus from the model); responses were respectively modeled or recorded for 2s after stimulus onset. Both in computational and biological experiments looming stimuli evoked stronger responses than an instantaneous flash (paired t-test p = 5e−66, n = 400 for the model, p = 1e−5, n = 56 in physiological experiments; significant after Bonferroni correction), while spatially disarranged stimuli evoked intermediate responses (B). The relative contribution of different neuronal spiking phenotypes to model responses, measured as the total number of spikes generated by all 10-spike (red), 5-spike (orange), 3-spike (light blue), and 1-spike (dark blue) neurons. Medium-spiking neurons were more involved in responses to slow than to fast stimuli (C). The median and inter-quartile ranges of first spike latencies during tectal responses to different stimuli, in model networks with different connectivity profiles (A–C), and in biological experiments (D), data from Khakhalin et al. (2014), not previously presented). The model successfully predicted typical latencies observed in physiological experiments (all pairwise comparisons between responses to different stimuli p < 1e−6, paired t-test, significant after Bonferroni correction). (D) The average number of spikes generated by model neurons across all four visual responses correlated (r = 0.31) with their preference (Cohen d effect size) for looming stimuli (crashes) over flashes; regression line shown in red (E). A similar analysis for the physiological data from Khakhalin et al. (2014) verified this prediction, as spikier neurons preferred looming stimuli to flashes (r = 0.42).