Characterization of Reproductive Dormancy in Male Drosophila melanogaster
ABSTRACT
---
Insects are known to respond to seasonal and adverse environmental changes by entering dormancy, also known as diapause. In some insect species, including Drosophila melanogaster, dormancy occurs in the adult organism and postpones reproduction. This adult dormancy has been studied in female flies where it is characterized by arrested development of ovaries, altered nutrient stores, lowered metabolism, increased stress and immune resistance and drastically extended lifespan. Male dormancy, however, has not been investigated in D. melanogaster, and its physiology is poorly known in most insects. Here we show that unmated 3–6 h old male flies placed at low temperature (11°C) and short photoperiod (10 Light:14 Dark) enter a state of dormancy with arrested spermatogenesis and development of testes and male accessory glands. Over 3 weeks of diapause we see a dynamic increase in stored carbohydrates and an initial increase and then a decrease in lipids. We also note an up-regulated expression of genes involved in metabolism, stress responses and innate immunity. Interestingly, we found that male flies that entered reproductive dormancy do not attempt to mate females kept under non-diapause conditions (25°C, 12L:12D), and conversely non-diapausing males do not mate females in dormancy. In summary, our study shows that male D. melanogaster can enter reproductive dormancy. However, our data suggest that dormant male flies deplete stored nutrients faster than females, studied earlier, and that males take longer to recover reproductive capacity after reintroduction to non-diapause conditions.
No MeSH data available.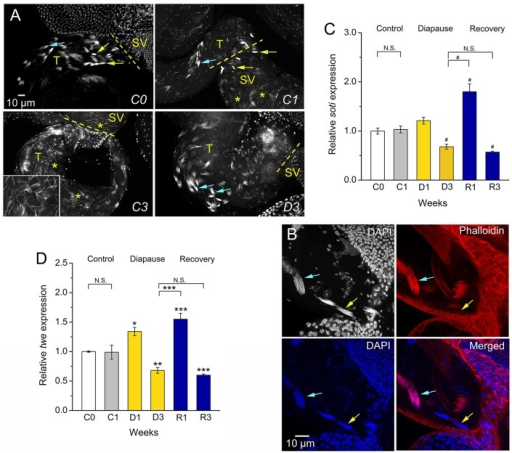 © Copyright Policy
License
getmorefigures.php?uid=PMC5121231&req=5
Mentions: Since diapausing plant bug males have hypotrophied accessory glands, but still produce and accumulate significant amounts of sperm (Iarovaia and Razin, 1996), we monitored sperm number in control and diapausing, as well as recovering, D. melanogaster males. We found that males in dormancy have very few sperm cells (average of 5 sperm) in their seminal vesicles compared to fully filled vesicles in controls that contained between 1,000 (C1) and up to 2,500 (C3) sperm (Figure 1D). It seems that in D. melanogaster recovery of spermatogenesis after dormancy takes longer than recovery of oogenesis. Female flies had fully vitellogenic eggs in the ovaries after 1 week of recovery (Kubrak et al., 2014), whereas it took 3 weeks for males to completely restore sperm content after dormancy (Figure 1D). The condition of the few sperm cells produced by diapausing males was poor as determined by microscopical analysis of sperm motility (Figure 1E). A more detailed analysis of sperm production in dormant males revealed arrested spermatogenesis at the stage of sperm individualization (Bonaccorsi et al., 1990) (Figures 2A–C). Whereas, 1-week old control (C1) flies displayed clearly visible sperm individualization complexes and several thousand sperm cells in the seminal vesicles (Figure 2A), dormant males possessed very few sperm in these, but only early individualization complexes (Bonaccorsi et al., 1990) (Figure 2A). Correlated with this, the expression of scotti (also known as soti), a gene required for spermatid individualization (Fricke et al., 2014), is decreased in dormant flies (Figure 2C). Reduced meiosis during dormancy is supported by a reduction in twine (twe) mRNA, encoding the meiotic Cdc25 protein Twine (Apger-McGlaughon and Wolfner, 2013) (Figure 2D).