What Do We Really Know About 5-HT 1A Receptor Signaling in Neuronal Cells?
ABSTRACT
---
Serotonin (5-HT) is a neurotransmitter that plays an important role in neuronal plasticity. Variations in the levels of 5-HT at the synaptic cleft, expression or dysfunction of 5-HT receptors may alter brain development and predispose to various mental diseases. Here, we review the transduction pathways described in various cell types transfected with recombinant 5-HT1A receptor (5-HT1AR), specially contrasting with those findings obtained in neuronal cells. The 5-HT1AR is detected in early stages of neural development and is located in the soma, dendrites and spines of hippocampal neurons. The 5-HT1AR differs from other 5-HT receptors because it is coupled to different pathways, depending on the targeted cell. The signaling pathway associated with this receptor is determined by Gα isoforms and some cascades involve βγ signaling. The activity of 5-HT1AR usually promotes a reduction in neuronal excitability and firing, provokes a variation in cAMP and Ca2+, levels which may be linked to specific types of behavior and cognition. Furthermore, evidence indicates that 5-HT1AR induces neuritogesis and synapse formation, probably by modulation of the neuronal cytoskeleton through MAPK and phosphoinositide-3-kinase (PI3K)-Akt signaling pathways. Advances in understanding the actions of 5-HT1AR and its association with different signaling pathways in the central nervous system will reveal their pivotal role in health and disease.
No MeSH data available.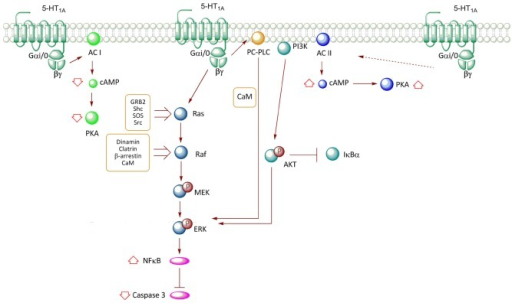 © Copyright Policy
License
getmorefigures.php?uid=PMC5121227&req=5
Mentions: The use of transfection techniques of the human 5-HT1AR in different cell lines has allowed further insight about the association of this receptor with specific G protein transducers, and related signaling pathways. In the HEK293 cell line, the activation of 5-HT1AR activates Gαi/o, leading to a reduction in cAMP levels through inhibition of adenylyl cyclase (AC) type I (Albert et al., 1999; Figure 2). However, when HEK293 cells were co-transfected with the 5-HT1AR along with AC type II, the agonist (8OH-DPAT) increased cAMP levels, an effect mediated by the Gβγ complex, which stimulates enzyme activity (Albert et al., 1999). Similar effects were observed in co-transfection experiments with pituitary cell lines (Liu et al., 1999). Interestingly, co-transfection with AC type II and Gαi2, but not Gαi1, Gαi3, or Gαo, resulted in an agonist-independent increase in basal cAMP levels, suggesting that the Gαi2 isoform promotes constitutive activation of the receptor (Albert et al., 1999). In contrast, the presence of both Gαi2 and Gαi3 results in reduced cAMP levels, suggesting that the action of Gαi3 predominates over that of Gαi2 (Liu et al., 1999; Figure 2).