Impact of CYP2C19 Variants on Clinical Efficacy of Clopidogrel and 1-Year Clinical Outcomes in Coronary Heart Patients Undergoing Percutaneous Coronary Intervention
ABSTRACT
---
The impact of pharmacogenetic variants of cytochrome P450 2C19 (CYP2C19) on clopidogrel-mediated effects on platelet inhibition, inflammatory response and endothelial function, as well as risk of major adverse cardiovascular events (MACE), in coronary heart patients undergoing percutaneous coronary intervention (PCI) was investigated. To this end, we assessed the residual platelet aggregation rate (RPA), maximal aggregation rate (MAR) and plasma levels of sCD40L, sP-selectin, MMP-9, sVCAM-1 and sE-selectin after 24 h of PCI in 559 patients treated with clopidogrel and followed up for 1 year for evidence of MACE. CYP2C19*2 and *3 variants were identified using a clopidogrel-sensitive gene detection kit. Our results showed higher RPA and MAR as well as increased sE-selectin, sCD40L, sP-selectin, MMP-9, and sVCAM-1 levels in CYP2C19 intermediate metabolizer (IM, CYP2C19*1/*2, or *1/*3), poor metabolizer (PM, CYP2C19*2/*2, *2/*3, or *3/*3) and combined IM+PM groups, relative to those in extensive metabolizers (EM, CYP2C19*1/*1). In total, 519 patients completed 1 year of follow-up, among which 69 (13.3%) experienced MACE. The risk of MACE in CYP2C19 IM+PM patients was 2.664 times higher than that in CYP2C19 EM patients (OR = 2.664 (1.397–5.193), P = 0.004). The data suggest that CYP2C19*2 and *3 variants modulate the drug efficacy of clopidogrel in coronary heart patients undergoing PCI and further enhance the risk of MACE. Accordingly, CYP2C19 pharmacogenetic profiling may be beneficial for coronary heart patients undergoing PCI to predict the efficacy of treatment with clopidogrel. We propose that IM and PM patients should benefit from treatment with higher clopidogrel doses to improve efficacy and reduce the incidence of MACE.
No MeSH data available.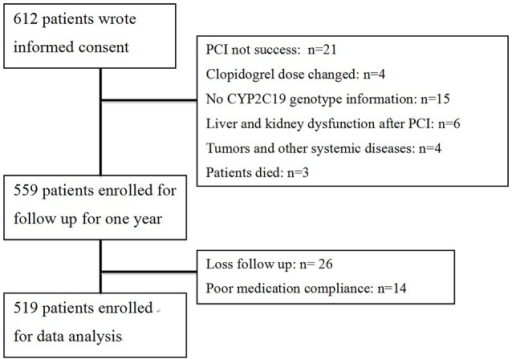 © Copyright Policy
License
getmorefigures.php?uid=PMC5121225&req=5
Mentions: A flow diagram of the study is shown in Figure 1. A total of 612 patients provided written informed consent. Based on inclusion criteria, 559 of these patients were enrolled for 1-year follow-up. Owing to loss to follow-up and poor medication compliance, 40 patients were further excluded, leading to a final total of 519 study participants. The follow-up rate was 95.3%. Clinical characteristics of patients are presented in Table 1. According to CYP2C19 genotype, 181, 253, and 85 patients were grouped as EM, IM, and PM, respectively, for further study. Comparison of clinical characteristics among the three groups disclosed no significant differences in age, gender, body mass index (BMI), CHD risk factors (hypertension, diabetes, smoking) and previous history of myocardial infarction (P > 0.05). Levels of lipids, creatinine, platelet count and fibrinogen were comparable among the three groups (P > 0.05). Differences in usage of clinical medicines, including ACEI/ARB, β-blockers, CCB, statins, PPI, and tirofiban (P > 0.05) were not statistically significant. Moreover, left main coronary artery lesions, vascular lesions (≧3), frame lengths and bracket numbers were similar among the three groups (P > 0.05).