DNRA and Denitrification Coexist over a Broad Range of Acetate/N-NO 3 − Ratios, in a Chemostat Enrichment Culture
ABSTRACT
---
Denitrification and dissimilatory nitrate reduction to ammonium (DNRA) compete for nitrate in natural and engineered environments. A known important factor in this microbial competition is the ratio of available electron donor and elector acceptor, here expressed as Ac/N ratio (acetate/nitrate-nitrogen). We studied the impact of the Ac/N ratio on the nitrate reduction pathways in chemostat enrichment cultures, grown on acetate mineral medium. Stepwise, conditions were changed from nitrate limitation to nitrate excess in the system by applying a variable Ac/N ratio in the feed. We observed a clear correlation between Ac/N ratio and DNRA activity and the DNRA population in our reactor. The DNRA bacteria dominated under nitrate limiting conditions in the reactor and were outcompeted by denitrifiers under limitation of acetate. Interestingly, in a broad range of Ac/N ratios a dual limitation of acetate and nitrate occurred with co-occurrence of DNRA bacteria and denitrifiers. To explain these observations, the system was described using a kinetic model. The model illustrates that the Ac/N effect and concomitant broad dual limitation range related to the difference in stoichiometry between both processes, as well as the differences in electron donor and acceptor affinities. Population analysis showed that the presumed DRNA-performing bacteria were the same under nitrate limitation and under dual limiting conditions, whereas the presumed denitrifying population changed under single and dual limitation conditions.
No MeSH data available.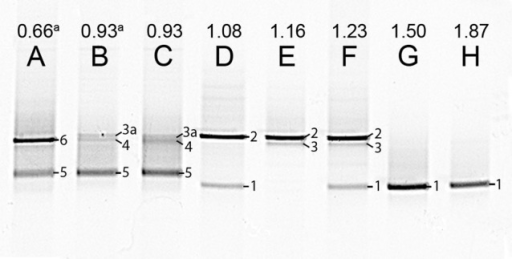 © Copyright Policy
License
getmorefigures.php?uid=PMC5121219&req=5
Mentions: The microbial populations in the reactor steady states were analyzed by DGGE and verified by FISH (Figures 3,4, respectively). DGGE bands were sequenced and analyzed using BLASTn (Table 5). For the DNRA dominated community as obtained in nitrate limiting conditions, one dominant genotype was observed on the gel (lane A, Figure 3), which is most closely related to Geobacter luticola. This is the genotype corresponding to the organism performing DNRA, as is explained in the discussion. When both nitrate and acetate were limiting and denitrification and DNRA coexisted, two other dominant genotypes appeared (lane C–E, Figure 3). One of those genotypes is most closely related to Geobacter lovleyi (band 3, Figure 3), and 100% similar to the DRNA genotype found in our previous study (van den Berg et al., 2015). Thus, this Geobacter genotype is assumed to be responsible for DNRA, just like the G. luticola related organism. Alignment of the sequences of the bands 1 and 3 showed 97% similarity. The other genotype that appeared when both nitrate and acetate were limiting (Ac/N 1.08–1.23 mol/mol) related to Azospira oryzae (band 2, Figure 3), which was most likely responsible for the denitrification. When the Ac/N ratio was 0.93 (lane F, Figure 3), a genotype related with 96% identity to Geobacter lovleyi (band 3a, Figure 3) remained, with 98% sequence similarity to genotype 3. The denitrifier with the A. oryzae genotype had disappeared and two other dominating genotypes were found, next to the Geobacter genotype. These genotypes (band 4 and 5, Figure 3) were highly similar, 98% similarity, and for both the closest cultivated relative was Sulfurisoma sediminicola. Under acetate limiting conditions (Ac/N 0.66, lane H, Figure 3), two genotypes dominated. The Geobacter genotype had disappeared and one of the Sulfurisoma sediminicola genotypes remained. A new genotype appeared (band 6, Figure 3), which was most closely related to Variovorax boronicumulans.