A Non-specific Setaria italica Lipid Transfer Protein Gene Plays a Critical Role under Abiotic Stress
ABSTRACT
---
Lipid transfer proteins (LTPs) are a class of cysteine-rich soluble proteins having small molecular weights. LTPs participate in flower and seed development, cuticular wax deposition, also play important roles in pathogen and abiotic stress responses. A non-specific LTP gene (SiLTP) was isolated from a foxtail millet (Setaria italica) suppression subtractive hybridization library enriched for differentially expressed genes after abiotic stress treatments. A semi-quantitative reverse transcriptase PCR analysis showed that SiLTP was expressed in all foxtail millet tissues. Additionally, the SiLTP promoter drove GUS expression in root tips, stems, leaves, flowers, and siliques of transgenic Arabidopsis. Quantitative real-time PCR indicated that the SiLTP expression was induced by NaCl, polyethylene glycol, and abscisic acid (ABA). SiLTP was localized in the cytoplasm of tobacco leaf epidermal cells and maize protoplasts. The ectopic expression of SiLTP in tobacco resulted in higher levels of salt and drought tolerance than in the wild type (WT). To further assess the function of SiLTP, SiLTP overexpression (OE) and RNA interference (RNAi)-based transgenic foxtail millet were obtained. SiLTP-OE lines performed better under salt and drought stresses compared with WT plants. In contrast, the RNAi lines were much more sensitive to salt and drought compared than WT. Electrophoretic mobility shift assays and yeast one-hybrids indicated that the transcription factor ABA-responsive DRE-binding protein (SiARDP) could bind to the dehydration-responsive element of SiLTP promoter in vitro and in vivo, respectively. Moreover, the SiLTP expression levels were higher in SiARDP-OE plants compared than the WT. These results confirmed that SiLTP plays important roles in improving salt and drought stress tolerance of foxtail millet, and may partly be upregulated by SiARDP. SiLTP may provide an effective genetic resource for molecular breeding in crops to enhance salt and drought tolerance levels.
No MeSH data available.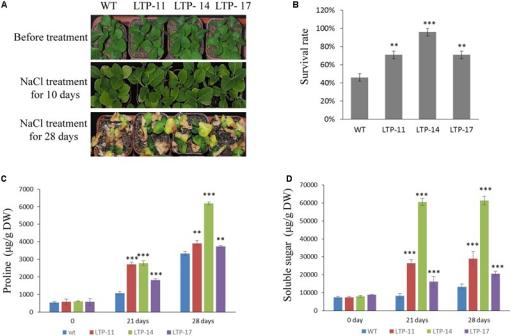 © Copyright Policy
License
getmorefigures.php?uid=PMC5121218&req=5
Mentions: Transgenic tobacco plants were generated using the construct pCOMBIA2300-SiLTP, and three independent T1 transgenic lines (LTP-11, LTP-14, and LTP-17) with high expression levels were chosen for further analysis (Figure 4A). To investigate the influence of salt and drought stress on seed germination and growth, the WT and transgenic tobacco seeds were spread on 1/2 MS medium supplied with various contents of mannitol or NaCl. The root and shoot lengths were measured, and no obvious differences were observed between the transgenic and WT plants on 1/2 MS medium. However, on medium with 100 mM NaCl, 200 mM mannitol, and 250 mM mannitol, SiLTP transgenic lines had significantly higher germination ratios than those of the WT (Figures 4B,C), and the SiLTP transgenic plants had longer roots and shoots on the media supplemented with either 100 mM NaCl or 200 mM mannitol compared than the WT seedlings (Figures 4D,E). To further determine the effect of abiotic stress on SiLTP transgenic tobacco, 4-week-old plants growing in soil were not irrigated with water, simulating drought stress (Figure 5A) or were irrigated with water supplemented with 250 mM NaCl (Figure 6A). After 3 weeks of the no irrigation drought treatment or 4 weeks of the salt treatment, the survival rates of these three transgenic lines were both significantly higher than those of WT plants (Figures 5B and 6B). Accordingly, transgenic lines also had significantly higher proline and soluble sugar contents than those of the WT under drought and salt treatments (Figures 5C,D and 6C,D). These results indicated that SiLTP improves the salt and drought tolerance of transgenic tobacco.