A Non-specific Setaria italica Lipid Transfer Protein Gene Plays a Critical Role under Abiotic Stress
ABSTRACT
---
Lipid transfer proteins (LTPs) are a class of cysteine-rich soluble proteins having small molecular weights. LTPs participate in flower and seed development, cuticular wax deposition, also play important roles in pathogen and abiotic stress responses. A non-specific LTP gene (SiLTP) was isolated from a foxtail millet (Setaria italica) suppression subtractive hybridization library enriched for differentially expressed genes after abiotic stress treatments. A semi-quantitative reverse transcriptase PCR analysis showed that SiLTP was expressed in all foxtail millet tissues. Additionally, the SiLTP promoter drove GUS expression in root tips, stems, leaves, flowers, and siliques of transgenic Arabidopsis. Quantitative real-time PCR indicated that the SiLTP expression was induced by NaCl, polyethylene glycol, and abscisic acid (ABA). SiLTP was localized in the cytoplasm of tobacco leaf epidermal cells and maize protoplasts. The ectopic expression of SiLTP in tobacco resulted in higher levels of salt and drought tolerance than in the wild type (WT). To further assess the function of SiLTP, SiLTP overexpression (OE) and RNA interference (RNAi)-based transgenic foxtail millet were obtained. SiLTP-OE lines performed better under salt and drought stresses compared with WT plants. In contrast, the RNAi lines were much more sensitive to salt and drought compared than WT. Electrophoretic mobility shift assays and yeast one-hybrids indicated that the transcription factor ABA-responsive DRE-binding protein (SiARDP) could bind to the dehydration-responsive element of SiLTP promoter in vitro and in vivo, respectively. Moreover, the SiLTP expression levels were higher in SiARDP-OE plants compared than the WT. These results confirmed that SiLTP plays important roles in improving salt and drought stress tolerance of foxtail millet, and may partly be upregulated by SiARDP. SiLTP may provide an effective genetic resource for molecular breeding in crops to enhance salt and drought tolerance levels.
No MeSH data available.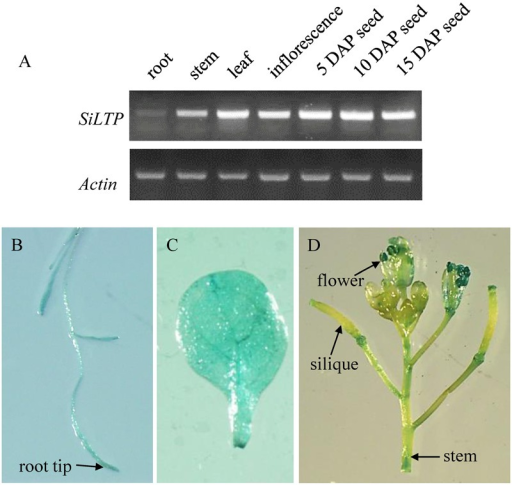 © Copyright Policy
License
getmorefigures.php?uid=PMC5121218&req=5
Mentions: To analyze the SiLTP expression pattern, total RNAs were extracted from seeds of different developmental stage, roots, stems, leaves, inflorescences which collected before, and used for semi-qRT-PCR. SiLTP was detected in all of the tested tissues. However, the transcription level of SiLTP was lower in roots compared with other tissues (Figure 1A). Additionally, the SiLTP promoter was cloned and fused with GUS. The construct p1391-proSiLTP::GUS was transformed into Arabidopsis, 13 transgenic lines were obtained, and three T2 transgenic lines were selected for GUS staining. The GUS signals were detected in the root tips, stems, leaves, anthers, and both ends of siliques (Figures 1B–D). qPCR was carried out to determine the expression levels of SiLTP under stress conditions. The maximum SiLTP transcript level was detected 6 h after the salt treatment began, and then gradually decreased (Figure 2A). The PEG treatment resulted in the maximum SiLTP accumulation level, which was 12-fold 9 h after the treatment began (Figure 2B). The SiLTP transcript level increased significantly 1 h after the ABA treatment began, reached its highest level (ninefold) after 3 h, and then decreased (Figure 2C). These results imply that SiLTP is involved in plant responses to abiotic stresses through an ABA-dependent pathway.