Waste Conversion into n -Caprylate and n -Caproate: Resource Recovery from Wine Lees Using Anaerobic Reactor Microbiomes and In-line Extraction
ABSTRACT
---
To convert wastes into sustainable liquid fuels and chemicals, new resource recovery technologies are required. Chain elongation is a carboxylate-platform bioprocess that converts short-chain carboxylates (SCCs) (e.g., acetate [C2] and n-butyrate [C4]) into medium-chain carboxylates (MCCs) (e.g., n-caprylate [C8] and n-caproate [C6]) with hydrogen gas as a side product. Ethanol or another electron donor (e.g., lactate, carbohydrate) is required. Competitive MCC productivities, yields (product vs. substrate fed), and specificities (product vs. all products) were only achieved previously from an organic waste material when exogenous ethanol had been added. Here, we converted a real organic waste, which inherently contains ethanol, into MCCs with n-caprylate as the target product. We used wine lees, which consisted primarily of settled yeast cells and ethanol from wine fermentation, and produced MCCs with a reactor microbiome. We operated the bioreactor at a pH of 5.2 and with continuous in-line extraction and achieved a MCC productivity of 3.9 g COD/L-d at an organic loading rate of 5.8 g COD/L-d, resulting in a promising MCC yield of 67% and specificities of 36% for each n-caprylate and n-caproate (72% for both). Compared to all other studies that used complex organic substrates, we achieved the highest n-caprylate-to-ncaproate product ratio of 1.0 (COD basis), because we used increased broth-recycle rates through the forward membrane contactor, which improved in-line extraction rates. Increased recycle rates also allowed us to achieve the highest reported MCC production flux per membrane surface area thus far (20.1 g COD/m2-d). Through microbial community analyses, we determined that an operational taxonomic unit (OTU) for Bacteroides spp. was dominant and was positively correlated with increased MCC productivities. Our data also suggested that the microbiome may have been shaped for improved MCC production by the high broth-recycle rates. Comparable abiotic studies suggest that further increases in the broth-recycle rates could improve the overall mass transfer coefficient and its corresponding MCC production flux by almost 30 times beyond the maximum that we achieved. With improved in-line extraction, the chain-elongation biotechnology production platform offers new opportunities for resource recovery and sustainable production of liquid fuels and chemicals.
No MeSH data available.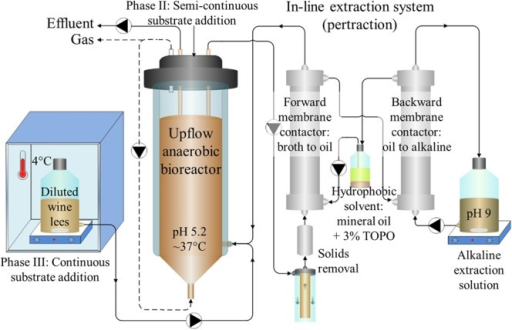 © Copyright Policy
License
getmorefigures.php?uid=PMC5121217&req=5
Mentions: A glass bioreactor with an inner diameter of 12-cm was initially operated at a working volume of 4.5 L (Usack and Angenent, 2015) under anaerobic conditions (Figure 1). For temperature control, we recirculated heated water from a water bath (37 ± 1°C) (Fisher Scientific Isotemp Heated Immersion Circulator 4100C, Waltham, MA, USA) through the glass jacket surrounding the bioreactor. A pH probe (Mettler 405-DPAS SC K85, Columbus, OH, USA) was mounted through the bioreactor head plate. Automated pH control of the bioreactor broth was maintained at pH 5.2 with a controller (Eutech Instruments alpha-pH800, Vernon Hills, IL, USA) and a corresponding acid addition pump (Cole-Parmer L/S Digital Economy Drive, Vernon Hills, IL, USA). When the controller provided hydrochloric acid (0.5 M) to the bioreactor, it also initiated automated headspace gas recirculation (Mityflex 913, Bradenton, FL, USA) through the bottom of the bioreactor to enhance mixing and prevent excessive acid addition. Several glass spheres (1.8-cm diameter) were placed in the cone at the bottom of the bioreactor (del Agua et al., 2015). The biogas outlet was connected to a flow meter (Actaris Meterfabriek 1L, Delft, The Netherlands). As part of the gas collection system, we included a gas-sample septum, a bubbler, and a two-bottle water equalization system to prevent air intrusion (Ge et al., 2015).