No Role for Mast Cells in Obesity-Related Metabolic Dysregulation
ABSTRACT
---
Obesity-related adipose tissue (AT) inflammation that promotes metabolic dysregulation is associated with increased AT mast cell numbers. Mast cells are potent inducers of inflammatory responses and could potentially contribute to obesity-induced AT inflammation and metabolic dysregulation. Conflicting findings were reported on obesity-related metabolic dysfunction in mast cell-deficient mice, thus creating a controversy that has not been resolved to date. Whereas traditional Kit hypomorphic mast cell-deficient strains featured reduced diet-induced obesity and diabetes, a Kit-independent model of mast cell deficiency, Cpa3Cre/+ mice, displayed no alterations in obesity and insulin sensitivity. Herein, we analyzed diet-induced obesity in Mcpt5-Cre R-DTA mice, in which the lack of mast cells is caused by a principle different from mast cell deficiency in Cpa3Cre/+ mice or Kit mutations. We observed no difference between mast cell-deficient and -proficient mice in diet-induced obesity with regards to weight gain, glucose tolerance, insulin resistance, metabolic parameters, hepatic steatosis, and AT or liver inflammation. We conclude that mast cells play no essential role in obesity and related pathologies.
No MeSH data available.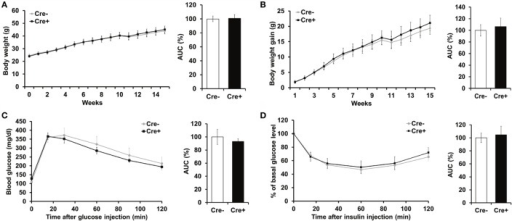 © Copyright Policy
License
getmorefigures.php?uid=PMC5121122&req=5
Mentions: Crossing of Mcpt5-Cre transgenic mice (19) to the R-DTA line (27) results in profound deficiency for connective tissue mast cells, the subset of mast cells populating most tissues, including AT, due to selective suicidal expression of diphtheria toxin A in Mcpt5-Cre+R-DTA+ animals. Lack of connective tissue mast cells is reflected by absence of IgE-mediated anaphylaxis, whereas the numbers of other major immune cell types are not affected (28). We assessed the involvement of mast cells in diet-induced obesity-related metabolic dysregulation. First, a group of mast cell-deficient and mast cell-proficient littermate control mice was followed on standard diet for >15 weeks. Under these conditions, mast cell-deficient mice displayed no differences with regards to body weight, AT and liver weight, glucose tolerance, and further metabolic parameters, e.g., blood cholesterol, blood triglycerides, or blood insulin, as compared to controls (data not shown). We, then, performed a detailed analysis of mice in the course of HFD-induced obesity. In contrast to KitW-sh/W-sh mice (12), but similarly to the Cpa3Cre+ mice (16), Mcpt5-Cre+R-DTA+ mast cell-deficient and -proficient (Cre-negative R-DTA+) mice that were fed a HFD did not display any significant differences in body weight (Figure 1A), body weight gain (Figure 1B), glucose tolerance (Figure 1C), and insulin resistance (Figure 1D). Thus, mast cell-deficiency does not affect systemic metabolic dysregulation and development of insulin resistance due to obesity. In accordance with the body weight data, the weights of the sAT, gAT, liver, muscle (quadriceps), and pancreas were not affected by mast cell-deficiency in diet-induced obesity (Figure 2A). Moreover, no differences in fasting blood cholesterol (Figure 2B) and triglyceride levels (Figure 2C) or fasting plasma insulin levels (Figure 2D) were found between obese mast cell-deficient and -proficient mice. Furthermore, mast cell deficiency did not affect adiponectin levels (Figure 2E). We subjected obese mast cell-deficient and -proficient mice to CLAMS analysis and observed no alterations in RER (Figure 2F), calories consumption (Figure 2G), water and food intake (Figures 2H,I), and motility (Figure 2J) between Cre-negative and Cre+ mice. Additionally, histological analysis of the AT did not display any differences between obese mast cell-deficient and -proficient mice (Figure 2K), with regards to AT morphology or adipocyte size. Together, mast cells are dispensable in obesity-related metabolic dysregulation and insulin resistance development.