RNA-seq Transcriptome Response of Flax ( Linum usitatissimum L.) to the Pathogenic Fungus Fusarium oxysporum f. sp. lini
ABSTRACT
---
Fusarium oxysporum f. sp. lini is a hemibiotrophic fungus that causes wilt in flax. Along with rust, fusarium wilt has become an important factor in flax production worldwide. Resistant flax cultivars have been used to manage the disease, but the resistance varies, depending on the interactions between specific cultivars and isolates of the pathogen. This interaction has a strong molecular basis, but no genomic information is available on how the plant responds to attempted infection, to inform breeding programs on potential candidate genes to evaluate or improve resistance across cultivars. In the current study, disease progression in two flax cultivars [Crop Development Center (CDC) Bethune and Lutea], showed earlier disease symptoms and higher susceptibility in the later cultivar. Chitinase gene expression was also divergent and demonstrated and earlier molecular response in Lutea. The most resistant cultivar (CDC Bethune) was used for a full RNA-seq transcriptome study through a time course at 2, 4, 8, and 18 days post-inoculation (DPI). While over 100 genes were significantly differentially expressed at both 4 and 8 DPI, the broadest deployment of plant defense responses was evident at 18 DPI with transcripts of more than 1,000 genes responding to the treatment. These genes evidenced a reception and transduction of pathogen signals, a large transcriptional reprogramming, induction of hormone signaling, activation of pathogenesis-related genes, and changes in secondary metabolism. Among these, several key genes that consistently appear in studies of plant-pathogen interactions, had increased transcript abundance in our study, and constitute suitable candidates for resistance breeding programs. These included: an induced RPMI-induced protein kinase; transcription factors WRKY3, WRKY70, WRKY75, MYB113, and MYB108; the ethylene response factors ERF1 and ERF14; two genes involved in auxin/glucosinolate precursor synthesis (CYP79B2 and CYP79B3); the flavonoid-related enzymes chalcone synthase, dihydroflavonol reductase and multiple anthocyanidin synthases; and a peroxidase implicated in lignin formation (PRX52). Additionally, regulation of some genes indicated potential pathogen manipulation to facilitate infection; these included four disease resistance proteins that were repressed, indole acetic acid amido/amino hydrolases which were upregulated, activated expansins and glucanases, amino acid transporters and aquaporins, and finally, repression of major latex proteins.
No MeSH data available.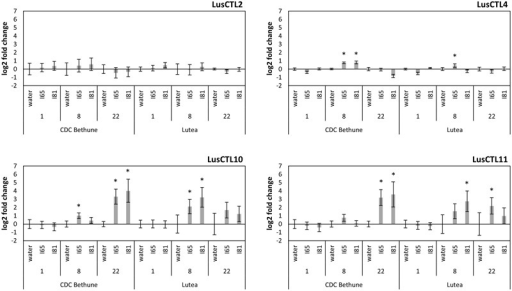 © Copyright Policy
License
getmorefigures.php?uid=PMC5121121&req=5
Mentions: We next characterized a time course of molecular-scale responses to infection, in both CDC Bethune and Lutea. As markers of the response to fungal infection, we used quantitative PCR to measure transcript abundance of four Glycosyl Hydrolase family 19 (GH19) chitinase genes of flax (Mokshina et al., 2014). These chitinases were selected based on homology to A. thaliana genes that had been previously characterized as responsive to pathogens or other related processes (Supplementary Figure S3). Three of the four tested chitinases responded to the fungal inoculation (Figure 4). LusCTL4 in CDC Bethune showed a significant increase in transcript abundance at 8 DPI with both F. oxysporum f. sp. lini isolates, as compared to water controls. This chitinase also showed overexpression at 8 DPI in Lutea with isolate #65. The last two chitinases, LusCTL10 and LusCTL11, were the most responsive and over the time course, appeared to increase in abundance in Lutea earlier that in CDC Bethune: chitinases peaked at 8 DPI for Lutea, while for CDC Bethune, the strongest chitinase responses to both fungal isolates occurred at 22 DPI (Figure 4). Since qRT-PCR changes in transcript abundance were marked 8 DPI for Lutea, and not until 22 DPI for CDC Bethune, this suggests constitutive defenses or mechanisms to delay the pathogen interaction in the later variety, as has been seen in other pathosystems (Lawrence et al., 2000). These two chitinases are presumed orthologs, of a class I basic chitinase (At3g12500) which was initially classified as a pathogen induced and defense-related protein (Passarinho and de Vries, 2002), and has shown upregulation in other systems upon pathogen incursion (Ascencio-Ibáñez et al., 2008; Nongbri et al., 2012). Therefore, the increase in the two orthologous chitinases represents a biomarker for F. oxysporum f. sp. lini infection, and can be effectively linked to the defense response of flax.