DNA METHYLATION BY DNMT1 AND DNMT3b METHYLTRANSFERASES IS DRIVEN BY THE MUC1-C ONCOPROTEIN IN HUMAN CARCINOMA CELLS
ABSTRACT
---
Aberrant expression of the DNA methyltransferases (DNMTs) and disruption of DNA methylation patterns are associated with carcinogenesis and cancer cell survival. The oncogenic MUC1-C protein is aberrantly overexpressed in diverse carcinomas; however, there is no known link between MUC1-C and DNA methylation. Our results demonstrate that MUC1-C induces expression of DNMT1 and DNMT3b, but not DNMT3a, in breast and other carcinoma cell types. We show that MUC1-C occupies the DNMT1 and DNMT3b promoters in complexes with NF-κB p65 and drives DNMT1 and DNMT3b transcription. In this way, MUC1-C controls global DNA methylation as determined by analysis of LINE-1 repeat elements. The results further demonstrate that targeting MUC1-C downregulates DNA methylation of the CDH1 tumor suppressor gene in association with induction of E-cadherin expression. These findings provide compelling evidence that MUC1-C is of functional importance to induction of DNMT1 and DNMT3b and, in turn, changes in DNA methylation patterns in cancer cells.
No MeSH data available.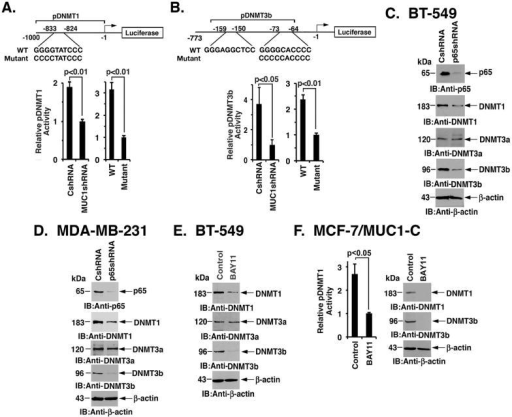 © Copyright Policy
getmorefigures.php?uid=PMC5121097&req=5
Mentions: Based on these findings, we searched the DNMT1 and DNMT3b promoters for the presence of cis-binding elements not shared with DNMT3a. Notably, an NF-κB binding site had been reported in the DNMT1 promoter (Fig. 2A) (27) and putative consensus NF-κB sites were identified in the DNMT3b, but not in the DNMT3a, promoter (Fig. 2B). Accordingly and to investigate a transcriptional mechanism, we generated a DNMT1 promoter-luciferase reporter (pDNMT1-Luc) (Fig. S4A) and showed that silencing MUC1-C in MDA-MB-231 (Fig. 2A, left) and A549 (Fig. S4B) cells suppresses its activity. A similar experiment using a DNMT3b promoter-luciferase reporter (pDNMT3b-Luc) (Fig. S4C) demonstrated that silencing MUC1-C is also associated with decreased activation (Fig. 2B, left and Fig. S4D). In addition, mutation of the putative NF-κB p65 binding sites in the pDNMT1-Luc (Fig. 2A, right) and pDNMT3b-Luc (Fig. 2B, right) vectors decreased their activation. To extend this line of investigation, we found that silencing NF-κB p65 in BT-549 and MDA-MB-231 cells decreases DNMT1 and DNMT3b, but not DNMT3a, expression (Figs. 2C and 2D). Similar results were obtained in A549 cells (Fig. S4E). Moreover, treatment with the NF-κB inhibitor BAY11-7085 (28) decreased expression of DNMT1 and DNMT3b, and not DNMT3a (Fig. 2E). MUC1-C constitutively activates the NF-κB p65 pathway in mesenchymal MDA-MB-231 and BT-549, but not in luminal MCF-7, cells. However, the enforced overexpression of MUC1-C in MCF-7 cells induces NF-κB p65 activity (25), indicating that cell context is of importance for MUC1-C-induced activation of NF-κB p65 signaling. Indeed, in studies of MCF-7/MUC1-C cells, we also found that BAY11-7085 (i) attenuates activation of the DNMT1 promoter (Fig. 2F, left), and (ii) suppresses DNMT1 and DNMT3b expression (Fig. 2F, right), providing further evidence that the MUC1-C→NF-κB p65 pathway (21–23) confers DNMT1 and DNMT3b activation.