Driving Apart and Segregating Genomes in Archaea
ABSTRACT
---
Genome segregation is a fundamental biological process in organisms from all domains of life. How this stage of the cell cycle unfolds in Eukarya has been clearly defined and considerable progress has been made to unravel chromosome partition in Bacteria. The picture is still elusive in Archaea. The lineages of this domain exhibit different cell-cycle lifestyles and wide-ranging chromosome copy numbers, fluctuating from 1 up to 55. This plurality of patterns suggests that a variety of mechanisms might underpin disentangling and delivery of DNA molecules to daughter cells. Here I describe recent developments in archaeal genome maintenance, including investigations of novel genome segregation machines that point to unforeseen bacterial and eukaryotic connections.
No MeSH data available.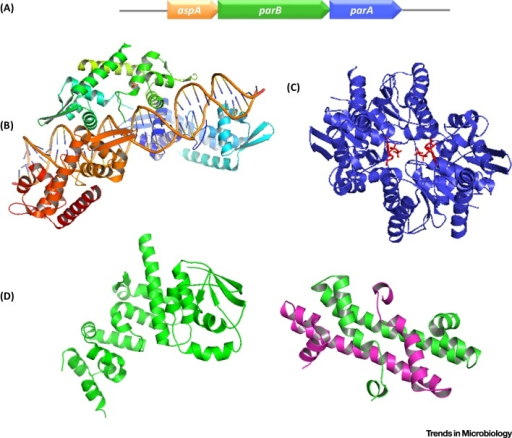 © Copyright Policy - CC BY
License
getmorefigures.php?uid=PMC5120986&req=5
Mentions: Sulfolobus NOB8H2 is a strain isolated by the archaea pioneer Wolfram Zillig and coworkers from acidic hot springs at Noboribetsu in the island of Hokkaido, Japan [53]. This strain harbours a 41 kbp conjugative plasmid, pNOB8, whose sequence has been determined [54]. The plasmid contains ∼50 ORFs including two tandem genes, orf45 and orf46, whose products show homology, respectively, to ParB and ParA families of bacterial partition proteins. The 36 kDa polypeptide encoded by orf46 is a 315-residue protein with similarity (33–37%) to bacterial ParAs. orf45 encodes a 470-amino acid protein (55 kDa), whose homology to bacterial ParBs is confined to the N-terminal domain (residues 1–190) (42–58% similarity), whereas the C-terminus shares homology with eukaryotic proteins, including kinesin-like motor proteins. Interestingly, a closer inspection of the region immediately upstream of parB revealed a small gene, orf44, which encodes a 93-amino acid protein of 10.7 kDa with no sequence homology to any characterized segregation protein [55]. The 3′ end of this gene overlaps with the 5′ end of parB, and similarly, the 3′ end of parB overlaps with 5′ end of parA (Figure 3A). This arrangement suggests that orf44, parB, and parA may be part of a single transcriptional unit. A tricistronic partition cassette is an interesting feature that is not common in the bacterial domain, whose typical segregation modules are bicistronic 30, 31. Furthermore, there is evidence suggesting that the orf44–parBA cassette of this plasmid encodes a bona fide partition system: when pNOB8 is transferred by conjugation into a different Sulfolobus strain, the plasmid undergoes a genetic rearrangement due to a single recombination event, which produces the deletion variant pNOB8-33 53, 54. This plasmid presents a deletion of a ∼8 kbp region resulting in the loss of the orf44–parBA cassette and is not stably maintained [53].