Statins and risk for new-onset diabetes mellitus
ABSTRACT
---
Although concern regarding the increased risk for new-onset diabetes mellitus (NODM) after statin treatment has been raised, there has been a lack of evidence in real-world clinical practice, particularly in East Asians. We investigated whether statin use is associated with risk for NODM in Koreans. We conducted a retrospective cohort study using the clinical research database from electronic health records. The study cohort consisted of 8265 statin-exposed and 33,060 matched nonexposed patients between January 1996 and August 2013. Matching at a 1:4 ratio was performed using a propensity score based on age, gender, baseline glucose levels (mg/dL), and hypertension. The comparative risks for NODM with various statins (atorvastatin, fluvastatin, pitavastatin, pravastatin, rosuvastatin, and simvastatin) were estimated by both statin exposure versus matched nonexposed and within-class comparisons. The incidence of NODM among the statin-exposed group (6.000 per 1000 patient-years [PY]) was higher than that of the nonexposed group (3.244 per 1000 PY). The hazard ratio (HR) of NODM after statin exposure was 1.872 (95% confidence interval [CI], 1.432–2.445). Male gender (HR, 1.944; 95% CI, 1.497–2.523), baseline glucose per mg/dL (HR, 1.014; 95% CI, 1.013–1.016), hypertension (HR, 2.232; 95% CI, 1.515–3.288), and thiazide use (HR, 1.337; 95% CI, 1.081–1.655) showed an increased risk for NODM, while angiotensin-converting enzyme inhibitor or angiotensin II receptor blocker showed a decreased risk (HR, 0.774; 95% CI, 0.668–0.897). Atorvastatin-exposed patients showed a higher risk for NODM than their matched nonexposed counterparts (HR, 1.939; 95% CI, 1.278–2.943). However, the risk for NODM was not significantly different among statins in within-class comparisons. In conclusion, an increased risk for NODM was observed among statin users in a practical healthcare setting in Korea.
No MeSH data available.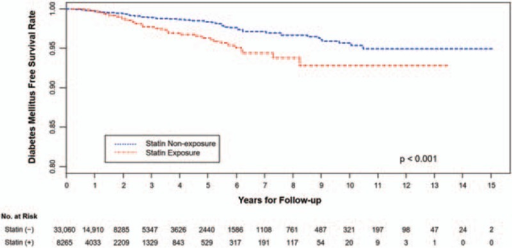 © Copyright Policy - open-access
License
getmorefigures.php?uid=PMC5120943&req=5
Mentions: NODM-free survival curves of each group are shown in Fig. 2. Kaplan–Meier survival curves showed a significantly higher occurrence rate of the primary endpoint NODM in the exposed group (P < 0.001, log-rank test). A significant relationship between statin exposure and NODM was consistently shown even after adjusting for age, gender, baseline glucose levels, CCI, hypertension, ACEi/ARB, beta-blockers, and thiazide when using Cox proportional hazard regression analysis (Table 3). The HR of statin exposure was 1.872 (1.432–2.445). Older age, being male, having higher levels of baseline glucose, hypertension, and exposure to thiazide were the factors that significantly increased the risk for NODM, whereas having taken ACEi or ARB significantly decreased the risk.