Visual attention is available at a task-relevant location rapidly after a saccade
ABSTRACT
---
Maintaining attention at a task-relevant spatial location while making eye-movements necessitates a rapid, saccade-synchronized shift of attentional modulation from the neuronal population representing the task-relevant location before the saccade to the one representing it after the saccade. Currently, the precise time at which spatial attention becomes fully allocated to the task-relevant location after the saccade remains unclear. Using a fine-grained temporal analysis of human peri-saccadic detection performance in an attention task, we show that spatial attention is fully available at the task-relevant location within 30 milliseconds after the saccade. Subjects tracked the attentional target veridically throughout our task: i.e. they almost never responded to non-target stimuli. Spatial attention and saccadic processing therefore co-ordinate well to ensure that relevant locations are attentionally enhanced soon after the beginning of each eye fixation.
Doi:: http://dx.doi.org/10.7554/eLife.18009.001
No MeSH data available.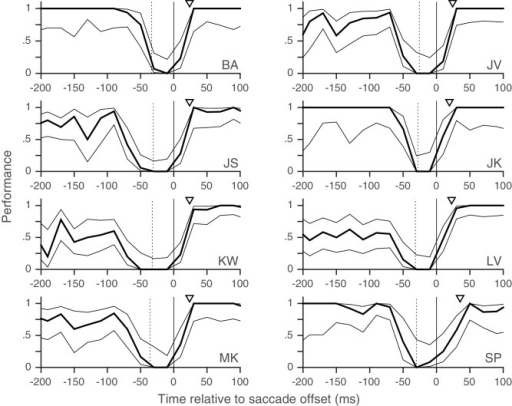 © Copyright Policy
License
getmorefigures.php?uid=PMC5120882&req=5
Mentions: In Experiment 1, we looked at the peri-saccadic performance of 8 subjects (pooled data in Figure 2A, individual subject-data in Figure 2—figure supplement 1). At times well before and well after the saccade, subjects almost always detected the target change and their performance was near 100%. Performance began to drop around the time the fixation point jumped (dashed vertical line in Figure 2A), as expected from the previously reported diversion of pre-saccadic attentional resources towards the saccade task (Deubel and Schneider, 1996; Montagnini and Castet, 2007; Hoffman and Subramaniam, 1995) and the post-saccadic retinotopic location (Szinte et al., 2015). The performance then dropped steeply right before the saccade, as expected from the drop in visual sensitivity due to saccadic suppression (Diamond et al., 2000; Dorr and Bex, 2013; McConkie and Loschky, 2002). Importantly, our data show (for the first time in an attention task, to our knowledge) that performance recovered back to baseline within 30 ms of saccade offset (Figure 2A). The rapid post-saccadic recovery of performance indicates that attention is allocated to the task-relevant location within 30 ms after the saccade ends. The rapid time-course of recovery resembles that previously shown for saccadic suppression of visual performance in tasks where visual sensitivity was probed around a saccade using a briefly flashed change, but without any requirement to maintain attention on a target across a saccade (Diamond et al., 2000; Dorr and Bex, 2013; McConkie and Loschky, 2002). This suggests that while resumption of visual function after a saccade is constrained by the recovery from saccadic suppression (Krekelberg, 2010), the peri-saccadic attentional shift necessitated by retinotopic visual processing does not impose an additional temporal cost on this recovery. The rapid post-saccadic attentional availability at the target location that we infer from our data is consistent with the only physiological data on this issue: in a mental curve-tracing task similar to ours with a fixed attentional target, attentional effects in monkey V1 emerge approximately 80 ms after the end of the saccade (Khayat et al., 2004). Given an onset latency of approximately 30 to 50 ms in monkey V1, MT and LIP (Khayat et al., 2004; Bair et al., 2002; Bisley et al., 2004), a change occurring 30 ms after saccade offset would reach the visual cortex at approximately the time when its neurons representing the target after the saccade are attentionally enhanced.10.7554/eLife.18009.004Figure 2.Rapid post-saccadic recovery of performance.