Wdr68 Mediates Dorsal and Ventral Patterning Events for Craniofacial Development
ABSTRACT
---
Birth defects are among the leading causes of infant mortality and contribute substantially to illness and long-term disability. Defects in Bone Morphogenetic Protein (BMP) signaling are associated with cleft lip/palate. Many craniofacial syndromes are caused by defects in signaling pathways that pattern the cranial neural crest cells (CNCCs) along the dorsal-ventral axis. For example, auriculocondylar syndrome is caused by impaired Endothelin-1 (Edn1) signaling, and Alagille syndrome is caused by defects in Jagged-Notch signaling. The BMP, Edn1, and Jag1b pathways intersect because BMP signaling is required for ventral edn1 expression that, in turn, restricts jag1b to dorsal CNCC territory. In zebrafish, the scaffolding protein Wdr68 is required for edn1 expression and subsequent formation of the ventral Meckel's cartilage as well as the dorsal Palatoquadrate. Here we report that wdr68 activity is required between the 17-somites and prim-5 stages, that edn1 functions downstream of wdr68, and that wdr68 activity restricts jag1b, hey1, and grem2 expression from ventral CNCC territory. Expression of dlx1a and dlx2a was also severely reduced in anterior dorsal and ventral 1st arch CNCC territory in wdr68 mutants. We also found that the BMP agonist isoliquiritigenin (ISL) can partially rescue lower jaw formation and edn1 expression in wdr68 mutants. However, we found no significant defects in BMP reporter induction or pSmad1/5 accumulation in wdr68 mutant cells or zebrafish. The Transforming Growth Factor Beta (TGF-β) signaling pathway is also known to be important for craniofacial development and can interfere with BMP signaling. Here we further report that TGF-β interference with BMP signaling was greater in wdr68 mutant cells relative to control cells. To determine whether interference might also act in vivo, we treated wdr68 mutant zebrafish embryos with the TGF-β signaling inhibitor SB431542 and found partial rescue of edn1 expression and craniofacial development. While ISL treatment failed, SB431542 partially rescued dlx2a expression in wdr68 mutants. Together these findings reveal an indirect role for Wdr68 in the BMP-Edn1-Jag1b signaling hierarchy and dorso-anterior expression of dlx1a/2a.
No MeSH data available.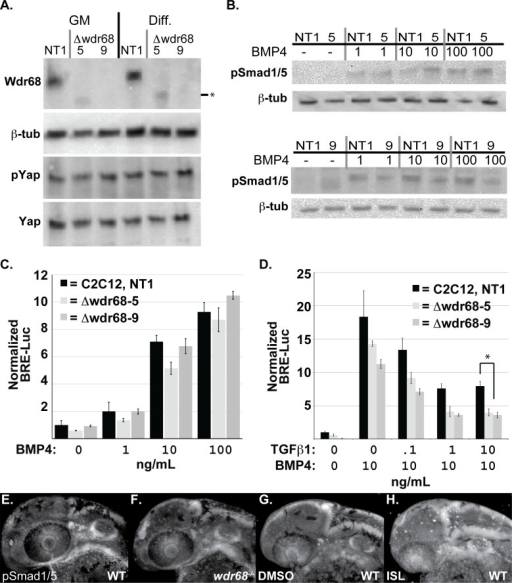 © Copyright Policy
License
getmorefigures.php?uid=PMC5120840&req=5
Mentions: To further examine whether Wdr68 might directly impact BMP signaling, we used CRISPR/Cas9 gene targeting technology to generate loss-of-function deletions in the Wdr68/Dcaf7 locus in mouse C2C12 cells. Western blot analysis and DNA sequencing confirmed the generation of two independently isolated mutant sublines, Δwdr68-5 and Δwdr68-9 (Fig 6A and S4B Fig) as well as a non-target control (NT1) subline. The transcriptional co-activator Yap is reported to be important for BMP signaling in mammalian cells [58, 59]. In flies, the ortholog of Wdr68, Riquiqui (Riq), is also reported to positively regulate the Yap ortholog yorkie through its interaction with the kinase Minibrain (Mnb) that negatively regulates the Hippo signaling pathway kinase Warts (Wts) [60]. Therefore, we examined both total Yap and pYap levels in the control, Δwdr68-5, and Δwdr68-9 sublines but found no significant differences between them (Fig 6A). To further characterize the sublines, we examined the levels of pSmad1/5 after a one-hour treatment of the cells with 0, 1, 10, or 100ng/mL BMP4 and found no significant reproducible differences between the sublines (Fig 6B). To determine whether Wdr68/Dcaf7 might generally facilitate BMP signaling in a functional assay, we transfected the control and deletion sublines with the BRE-Luc reporter plasmid [55] along with a SV40-Renilla plasmid, and generated a dose-response curve to BMP4 ligand (Fig 6C). All relative light unit responses were normalized to the vehicle-treated control subline (Fig 6C, leftmost column). Overall, no significant decreases in fold-induction were found in the Δwdr68-5 and Δwdr68-9 sublines relative to the control subline (Fig 6C grey bars versus black bars). Immunofluorescence analysis also revealed little consistent difference in pSmad1/5 levels between wildtype and wdr68hi3812/hi3812 mutant zebrafish embryos (Fig 6E and 6F). As expected, ISL treatment did consistently increase pSmad1/5 signal (compare Fig 6H to 6G). Thus, Wdr68/Dcaf7 does not appear to directly modulate BMP signaling pathway activity.