Detection of Endotoxin Contamination of Graphene Based Materials Using the TNF- α Expression Test and Guidelines for Endotoxin-Free Graphene Oxide Production
ABSTRACT
---
Nanomaterials may be contaminated with bacterial endotoxin during production and handling, which may confound toxicological testing of these materials, not least when assessing for immunotoxicity. In the present study, we evaluated the conventional Limulus amebocyte lysate (LAL) assay for endotoxin detection in graphene based material (GBM) samples, including graphene oxide (GO) and few-layered graphene (FLG). Our results showed that some GO samples interfered with various formats of the LAL assay. To overcome this problem, we developed a TNF-α expression test (TET) using primary human monocyte-derived macrophages incubated in the presence or absence of the endotoxin inhibitor, polymyxin B sulfate, and found that this assay, performed with non-cytotoxic doses of the GBM samples, enabled unequivocal detection of endotoxin with a sensitivity that is comparable to the LAL assay. FLG also triggered TNF-α production in the presence of the LPS inhibitor, pointing to an intrinsic pro-inflammatory effect. Finally, we present guidelines for the preparation of endotoxin-free GO, validated by using the TET.
No MeSH data available.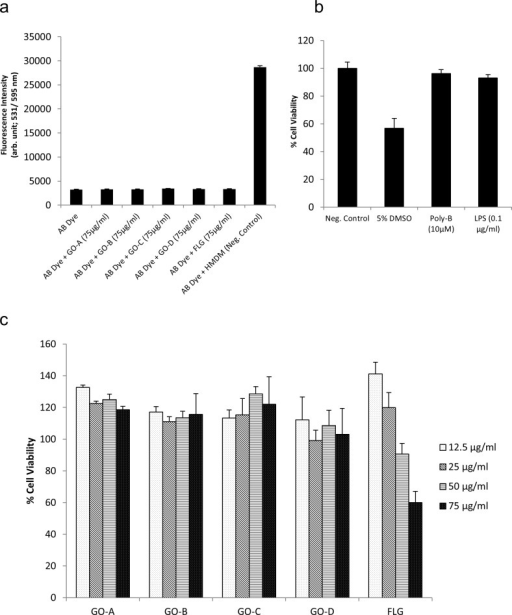 © Copyright Policy
License
getmorefigures.php?uid=PMC5120825&req=5
Mentions: The MAT is used as an alternative to the LAL assay, and Dobrovolskaia et al. recently reported that this assay could be used to resolve discrepancies arising from different LAL tests when assessing nanomedicines [27]. The MAT is based on the use of a human monocytic cell line, MM6, and ELISA-based detection of IL-6 in the cell culture supernatants. However, while monocytic cell lines, such as MM6 and THP.1 are sensitive to LPS, it is known that undifferentiated monocytes produce lower level of inflammatory markers (e.g., TNF-α), than their differentiated counterparts upon exposure to LPS [28]. Therefore, to establish a sensitive, quantitative method for the assessment of endotoxin content in GBM samples, and in order to distinguish between material-intrinsic effects versus effects arising from endotoxin contamination, we set up the TNF-α expression test (TET) using primary human macrophages as our model system (Fig 1). The TET is based on the detection of TNF-α in the presence or absence of the specific LPS inhibitor, polymyxin B sulfate. However, in order to use HMDM for endotoxin testing, a non-toxic dose of the test material should be established, since cytokine production may not be reliably evaluated at cytotoxic doses of the test compound. To this end, following differentiation of primary human monocytes into macrophages for three days, cells were exposed to different concentrations of GO for 24 h and cell viability was determined using the Alamar Blue assay. No interference for any of the GBMs at the highest concentration used, i.e., 75 μg/ml, was observed in this assay (Fig 3A). The positive control used in this assay, i.e., 5% DMSO, showed ~55% cell viability after 24 h, while LPS and polymyxin B sulfate did not trigger any significant loss of cell viability (Fig 3B). As seen in Fig 3C, no cytotoxicity was observed after 24 h exposure of HMDM up to 75 μg/ml concentration for any of the GBM samples tested. In fact, an apparent increase in cell viability was observed (i.e., values higher than control) (Fig 3C). The reason for this increase in the Alamar blue dye conversion by macrophages exposed to GO remains unclear, but could potentially be explained by the induction of unrelated enzymatic activities. Furthermore, a dose-dependent loss of cell viability was observed for FLG at 24 h, with 60% viability at the highest concentration (75 μg/ml) (Fig 3C).