Detection of Endotoxin Contamination of Graphene Based Materials Using the TNF- α Expression Test and Guidelines for Endotoxin-Free Graphene Oxide Production
ABSTRACT
---
Nanomaterials may be contaminated with bacterial endotoxin during production and handling, which may confound toxicological testing of these materials, not least when assessing for immunotoxicity. In the present study, we evaluated the conventional Limulus amebocyte lysate (LAL) assay for endotoxin detection in graphene based material (GBM) samples, including graphene oxide (GO) and few-layered graphene (FLG). Our results showed that some GO samples interfered with various formats of the LAL assay. To overcome this problem, we developed a TNF-α expression test (TET) using primary human monocyte-derived macrophages incubated in the presence or absence of the endotoxin inhibitor, polymyxin B sulfate, and found that this assay, performed with non-cytotoxic doses of the GBM samples, enabled unequivocal detection of endotoxin with a sensitivity that is comparable to the LAL assay. FLG also triggered TNF-α production in the presence of the LPS inhibitor, pointing to an intrinsic pro-inflammatory effect. Finally, we present guidelines for the preparation of endotoxin-free GO, validated by using the TET.
No MeSH data available.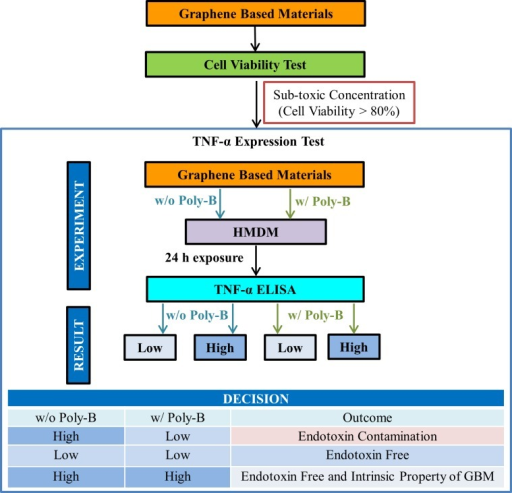 © Copyright Policy
License
getmorefigures.php?uid=PMC5120825&req=5
Mentions: Endotoxin detection in pharmaceutical products is performed using two different methods. The in vivo rabbit pyrogen test (RPT) enables the detection of pyrogens in general by measurement of possible fever development after injection of the test sample [12]. The second type of endotoxin detection method, the Limulus amebocyte lysate (LAL) assay is based on the blood of wild horseshoe crab populations. While the RPT assay can only detect the presence of endotoxins indirectly, the LAL assay is more specific to endotoxins as it takes advantage of the LPS-sensitive serine protease Factor C. Upon activation, Factor C induces a coagulation cascade leading to the amplification of the LPS stimulus and the formation of a firm gel clot. All LAL assays are in principle based on this coagulation cascade, but they have been further modified to enable quantitative determination of endotoxins. Today, three LAL assay formats with different read-out are available: gel-clot (semi-quantitative), turbidimetric, and chromogenic (quantitative) [13]. The RPT is an expensive method which requires a large number of animals and also yields large variations in test performance, but is still used for assessment of pyrogenicity of a majority of biological products including blood products and vaccines owing to interference when using the LAL test. For more than 30 years, FDA has accepted the use of the LAL test for endotoxins instead of the RPT. More recently, the recombinant factor C (rFC) assay and the monocyte activation test (MAT) were recognized as alternatives to the LAL assay [11]. The MAT, which mimics the human fever reaction, was established as an alternative test for pyrogen testing [14], and implemented into the European Pharmacopoeia (Monograph 2.6.30) in 2009 as an alternative to the RPT. Importantly, the European Directive 2010/63/EU on the protection of animals used for scientific purposes enforces the replacement of animal tests when validated alternatives exist. While the LAL assay is known to be very sensitive, several laboratories have reported problems of interference of nanoparticles with one or more of the LAL assay formats [12, 15–18]. Previous studies have suggested that TLR4 reporter cells could be used to evaluate endotoxin contamination of metal/metal oxide nanoparticles [17]. There is limited information available on whether GBMs interfere with commonly used endotoxin assays. On the other hand, recent work has implied that GO could trigger cell death via TLR4 [19], meaning that the use of TLR4 reporter cells would yield ambiguous results. Here, we compared different LAL assays formats and found that some graphene oxides (GO) interfere with this commonly used assay. To circumvent this problem, we devised the TNF-α expression test (TET) using primary human monocyte-derived macrophages (HMDM) to detect LPS contamination in GBMs (Fig 1). We also describe procedures for sterile synthesis of GO.