SOX2 and PI3K Cooperate to Induce and Stabilize a Squamous-Committed Stem Cell Injury State during Lung Squamous Cell Carcinoma Pathogenesis
ABSTRACT
---
Although cancers are considered stem cell diseases, mechanisms involving stem cell alterations are poorly understood. Squamous cell carcinoma (SQCC) is the second most common lung cancer, and its pathogenesis appears to hinge on changes in the stem cell behavior of basal cells in the bronchial airways. Basal cells are normally quiescent and differentiate into mucociliary epithelia. Smoking triggers a hyperproliferative response resulting in progressive premalignant epithelial changes ranging from squamous metaplasia to dysplasia. These changes can regress naturally, even with chronic smoking. However, for unknown reasons, dysplasias have higher progression rates than earlier stages. We used primary human tracheobronchial basal cells to investigate how copy number gains in SOX2 and PIK3CA at 3q26-28, which co-occur in dysplasia and are observed in 94% of SQCCs, may promote progression. We find that SOX2 cooperates with PI3K signaling, which is activated by smoking, to initiate the squamous injury response in basal cells. This response involves SOX9 repression, and, accordingly, SOX2 and PI3K signaling levels are high during dysplasia, while SOX9 is not expressed. By contrast, during regeneration of mucociliary epithelia, PI3K signaling is low and basal cells transiently enter a SOX2LoSOX9Hi state, with SOX9 promoting proliferation and preventing squamous differentiation. Transient reduction in SOX2 is necessary for ciliogenesis, although SOX2 expression later rises and drives mucinous differentiation, as SOX9 levels decline. Frequent coamplification of SOX2 and PIK3CA in dysplasia may, thus, promote progression by locking basal cells in a SOX2HiSOX9Lo state with active PI3K signaling, which sustains the squamous injury response while precluding normal mucociliary differentiation. Surprisingly, we find that, although later in invasive carcinoma SOX9 is generally expressed at low levels, its expression is higher in a subset of SQCCs with less squamous identity and worse clinical outcome. We propose that early pathogenesis of most SQCCs involves stabilization of the squamous injury state in stem cells through copy number gains at 3q, with the pro-proliferative activity of SOX9 possibly being exploited in a subset of SQCCs in later stages.
No MeSH data available.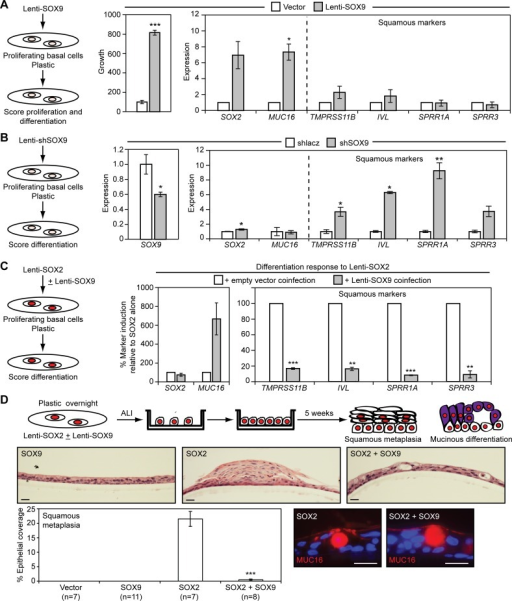 © Copyright Policy
License
getmorefigures.php?uid=PMC5120804&req=5
Mentions: Given that SOX9 expression is highest during the earliest stages of mucociliary differentiation, SOX9 may affect pre-differentiation properties of stem cells such as proliferation and lineage commitment. To determine how SOX9 affects the stem cell behavior of tracheobronchial basal cells, we first used a constitutively expressing lentiviral vector to raise its expression in plastic cultures of SOX2Lo basal cells. Lenti-SOX9 increased basal cell growth while elevating expression of SOX2 and MUC16, but not markers of squamous differentiation (Fig 10A). The increase in SOX2 mRNA expression did not translate to a detectable increase in SOX2 protein levels (S6 Fig), and the MUC16 induction was generally weaker than observed with Lenti-SOX2. These data suggest that SOX9 may have a role in promoting columnar lineage commitment, which is associated with a limited ability to increase MUC16 mRNA expression. Analysis of the effects of reduced SOX9 expression was problematic, as SOX9 shRNA lentiviruses suppressed basal cell growth. However, in short-term plastic cultures, partial SOX9 knockdown increased squamous marker, but not MUC16 expression (Fig 10B). The amount of squamous marker induction was also generally weaker than observed for Lenti-SOX2, supporting the concept that SOX9 is an early determinant of columnar versus squamous lineage commitment, rather than a strong inducer of differentiation.