Visual Enhancement of Illusory Phenomenal Accents in Non-Isochronous Auditory Rhythms
ABSTRACT
---
Musical rhythms encompass temporal patterns that often yield regular metrical accents (e.g., a beat). There have been mixed results regarding perception as a function of metrical saliency, namely, whether sensitivity to a deviant was greater in metrically stronger or weaker positions. Besides, effects of metrical position have not been examined in non-isochronous rhythms, or with respect to multisensory influences. This study was concerned with two main issues: (1) In non-isochronous auditory rhythms with clear metrical accents, how would sensitivity to a deviant be modulated by metrical positions? (2) Would the effects be enhanced by multisensory information? Participants listened to strongly metrical rhythms with or without watching a point-light figure dance to the rhythm in the same meter, and detected a slight loudness increment. Both conditions were presented with or without an auditory interference that served to impair auditory metrical perception. Sensitivity to a deviant was found greater in weak beat than in strong beat positions, consistent with the Predictive Coding hypothesis and the idea of metrically induced illusory phenomenal accents. The visual rhythm of dance hindered auditory detection, but more so when the latter was itself less impaired. This pattern suggested that the visual and auditory rhythms were perceptually integrated to reinforce metrical accentuation, yielding more illusory phenomenal accents and thus lower sensitivity to deviants, in a manner consistent with the principle of inverse effectiveness. Results were discussed in the predictive framework for multisensory rhythms involving observed movements and possible mediation of the motor system.
No MeSH data available.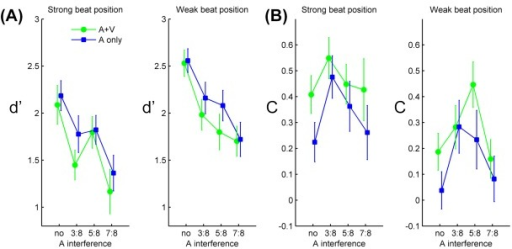 © Copyright Policy
License
getmorefigures.php?uid=PMC5120798&req=5
Mentions: The individual d's were submitted to a 2 (rhythm modality) × 4 (auditory interference) × 2 (metrical position of deviant) ANOVA. There was a main effect of metrical position, F(1, 19) = 50.9, p < 0.001, ηp2 = 0.73, showing greater sensitivity to a deviant in the weak beat than in the strong beat positions (Bayes factor 6.5×106: 1 in favor of the effect). The main effect of auditory interference was also significant, F(3, 57) = 22.17, p < 0.001, ηp2 = 0.54 (Bayes factor 1.7×1017: 1 in favor of the effect). Post-hoc comparisons showed greater d' without auditory interference compared to all the other conditions with, all three ps < 0.001, and also greater d' in the 3:8 and 5:8 compared to the 7:8 condition, both ps < 0.03. The effect of rhythm modality was marginally significant, F(1, 19) = 3.93, p = 0.06, ηp2 = 0.17 (Bayes factor 2.3: 1 in favor of the effect), with a trend of somewhat greater d' for A than for AV. There was no significant interaction amongst the factors, all ps > 0.1. See Fig 3A.