Real-Time Control of an Articulatory-Based Speech Synthesizer for Brain Computer Interfaces
ABSTRACT
---
Restoring natural speech in paralyzed and aphasic people could be achieved using a Brain-Computer Interface (BCI) controlling a speech synthesizer in real-time. To reach this goal, a prerequisite is to develop a speech synthesizer producing intelligible speech in real-time with a reasonable number of control parameters. We present here an articulatory-based speech synthesizer that can be controlled in real-time for future BCI applications. This synthesizer converts movements of the main speech articulators (tongue, jaw, velum, and lips) into intelligible speech. The articulatory-to-acoustic mapping is performed using a deep neural network (DNN) trained on electromagnetic articulography (EMA) data recorded on a reference speaker synchronously with the produced speech signal. This DNN is then used in both offline and online modes to map the position of sensors glued on different speech articulators into acoustic parameters that are further converted into an audio signal using a vocoder. In offline mode, highly intelligible speech could be obtained as assessed by perceptual evaluation performed by 12 listeners. Then, to anticipate future BCI applications, we further assessed the real-time control of the synthesizer by both the reference speaker and new speakers, in a closed-loop paradigm using EMA data recorded in real time. A short calibration period was used to compensate for differences in sensor positions and articulatory differences between new speakers and the reference speaker. We found that real-time synthesis of vowels and consonants was possible with good intelligibility. In conclusion, these results open to future speech BCI applications using such articulatory-based speech synthesizer.
No MeSH data available.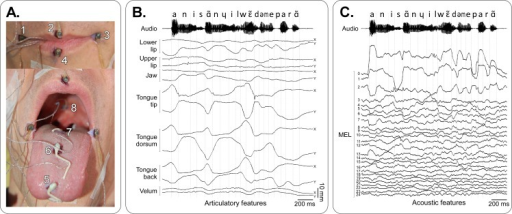 © Copyright Policy
License
getmorefigures.php?uid=PMC5120792&req=5
Mentions: The articulatory data was recorded using the electromagnetic articulography (EMA) NDI Wave system (NDI, Ontario, Canada), which allows three-dimensional tracking of the position of small coils with a precision of less than a millimeter. Nine such 3D coils were glued on the tongue tip, dorsum, and back, as well as on the upper lip, the lower lip, the left and right lip corners, the jaw and the soft palate (Fig 2A). This configuration was chosen for being similar to the ones used in the main publicly available databases, such as MOCHA (http://www.cstr.ed.ac.uk/research/projects/artic/mocha.html) and mngu0 [43], and in other studies in articulatory-based synthesis [34] or articulatory-to-acoustic inversion [44]. This configuration allows to capture well the movements of the main articulators while avoiding to perturb the speaker too much: 3 coils on the tongue give information on back, dorsum and apex while 4 coils on lips give information on protrusion and rounding, and we considered that one sensor was enough for the jaw since it is a rigid articulator, and one for the soft palate since it has mostly one degree of freedom. An additional 6D reference coil (which position and orientation can be measured) was used to account for head movements and was glued behind the right ear of the subject. To avoid coil detachment due to salivation, two precautions were taken to glue the sensors. First, the tongue and soft palate sensors were glued onto small pieces of silk in order to increase contact surface, and second, the tongue, soft palate and jaw surfaces were carefully dried using cottons soaked with 55% green Chartreuse liquor. The recorded sequences of articulatory coordinates were down-sampled from 400 Hz to 100 Hz.