Dermoscopy in General Dermatology: A Practical Overview
ABSTRACT
---
Over the last few years, dermoscopy has been shown to be a useful tool in assisting the noninvasive diagnosis of various general dermatological disorders. In this article, we sought to provide an up-to-date practical overview on the use of dermoscopy in general dermatology by analysing the dermoscopic differential diagnosis of relatively common dermatological disorders grouped according to their clinical presentation, i.e. dermatoses presenting with erythematous-desquamative patches/plaques (plaque psoriasis, eczematous dermatitis, pityriasis rosea, mycosis fungoides and subacute cutaneous lupus erythematosus), papulosquamous/papulokeratotic dermatoses (lichen planus, pityriasis rosea, papulosquamous sarcoidosis, guttate psoriasis, pityriasis lichenoides chronica, classical pityriasis rubra pilaris, porokeratosis, lymphomatoid papulosis, papulosquamous chronic GVHD, parakeratosis variegata, Grover disease, Darier disease and BRAF-inhibitor-induced acantholytic dyskeratosis), facial inflammatory skin diseases (rosacea, seborrheic dermatitis, discoid lupus erythematosus, sarcoidosis, cutaneous leishmaniasis, lupus vulgaris, granuloma faciale and demodicidosis), acquired keratodermas (chronic hand eczema, palmar psoriasis, keratoderma due to mycosis fungoides, keratoderma resulting from pityriasis rubra pilaris, tinea manuum, palmar lichen planus and aquagenic palmar keratoderma), sclero-atrophic dermatoses (necrobiosis lipoidica, morphea and cutaneous lichen sclerosus), hypopigmented macular diseases (extragenital guttate lichen sclerosus, achromic pityriasis versicolor, guttate vitiligo, idiopathic guttate hypomelanosis, progressive macular hypomelanosis and postinflammatory hypopigmentations), hyperpigmented maculopapular diseases (pityriasis versicolor, lichen planus pigmentosus, Gougerot-Carteaud syndrome, Dowling-Degos disease, erythema ab igne, macular amyloidosis, lichen amyloidosus, friction melanosis, terra firma-forme dermatosis, urticaria pigmentosa and telangiectasia macularis eruptiva perstans), itchy papulonodular dermatoses (hypertrophic lichen planus, prurigo nodularis, nodular scabies and acquired perforating dermatosis), erythrodermas (due to psoriasis, atopic dermatitis, mycosis fungoides, pityriasis rubra pilaris and scabies), noninfectious balanitis (Zoon's plasma cell balanitis, psoriatic balanitis, seborrheic dermatitis and non-specific balanitis) and erythroplasia of Queyrat, inflammatory cicatricial alopecias (scalp discoid lupus erythematosus, lichen planopilaris, frontal fibrosing alopecia and folliculitis decalvans), nonscarring alopecias (alopecia areata, trichotillomania, androgenetic alopecia and telogen effluvium) and scaling disorders of the scalp (tinea capitis, scalp psoriasis, seborrheic dermatitis and pityriasis amiantacea).
No MeSH data available.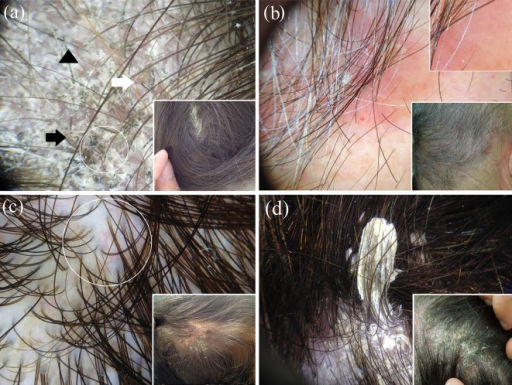 © Copyright Policy
getmorefigures.php?uid=PMC5120630&req=5
Mentions: The main dermatoscopic features of tinea capitis are represented by "comma" hair (c-shaped hair shaft with a sharp, slanting end and homogeneous thickness), "corkscrew" hair (twisted or coiled, short, broken hair fragments), "zigzag" hair (hair shaft bent at multiple points) and "Morse code" hair [presence of multiple transverse bands (gaps) throughout the hair shaft] (Fig. 12a) [151, 170–187]. Other nonspecific trichoscopic findings in TC include broken and dystrophic hairs, i-hair, black dots, yellowish dots, erythema, scaling, pustules, elongated blood vessels, tufted hair and large yellowish wax-coloured perifollicular areas (favus) [151, 170–187].