Time-course microarray analysis for identifying candidate genes involved in obesity-associated pathological changes in the mouse colon
ABSTRACT
---
Background: Obesity is known to increase the risk of colorectal cancer. However, mechanisms underlying the pathogenesis of obesity-induced colorectal cancer are not completely understood. The purposes of this study were to identify differentially expressed genes in the colon of mice with diet-induced obesity and to select candidate genes as early markers of obesity-associated abnormal cell growth in the colon.
Methods: C57BL/6N mice were fed normal diet (11% fat energy) or high-fat diet (40% fat energy) and were euthanized at different time points. Genome-wide expression profiles of the colon were determined at 2, 4, 8, and 12 weeks. Cluster analysis was performed using expression data of genes showing log2 fold change of ≥1 or ≤−1 (twofold change), based on time-dependent expression patterns, followed by virtual network analysis.
Results: High-fat diet-fed mice showed significant increase in body weight and total visceral fat weight over 12 weeks. Time-course microarray analysis showed that 50, 47, 36, and 411 genes were differentially expressed at 2, 4, 8, and 12 weeks, respectively. Ten cluster profiles representing distinguishable patterns of genes differentially expressed over time were determined. Cluster 4, which consisted of genes showing the most significant alterations in expression in response to high-fat diet over 12 weeks, included Apoa4 (apolipoprotein A-IV), Ppap2b (phosphatidic acid phosphatase type 2B), Cel (carboxyl ester lipase), and Clps (colipase, pancreatic), which interacted strongly with surrounding genes associated with colorectal cancer or obesity.
Conclusions: Our data indicate that Apoa4, Ppap2b, Cel, and Clps are candidate early marker genes associated with obesity-related pathological changes in the colon. Genome-wide analyses performed in the present study provide new insights on selecting novel genes that may be associated with the development of diseases of the colon.
Electronic supplementary material: The online version of this article (doi:10.1186/s12263-016-0547-x) contains supplementary material, which is available to authorized users.
No MeSH data available.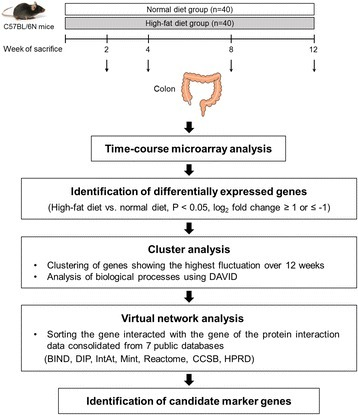 © Copyright Policy - OpenAccess
License 1 - License 2


getmorefigures.php?uid=PMC5120484&req=5

Mentions: Total RNA was isolated from the colon tissue of each mouse, using TRIzol (Invitrogen Life Technologies, Carlsbad, CA, USA), and was purified using RNeasy column (Qiagen, Valencia, CA, USA), according to the manufacturer's protocols. RNA purity and integrity were evaluated by denaturing gel electrophoresis, OD260/OD280 ratio, and analyzed on the Agilent 2100 Bioanalyzer (Agilent Technologies, Palo Alto, CA, USA). The RNA Integrity Number (RIN) score was generated on the Agilent software, and the average RIN score of all samples used for microarray analysis was 8.5 ± 0.9 (mean ± SD). To reduce individual variability in gene expression, identical amounts of total colonic RNA were pooled from 10 mice in each experimental group and a pooled RNA sample representing the ND and HFD group at 2, 4, 8, and 12 weeks was subjected to microarray experiment as described previously [21]. Total RNA was amplified and purified using the Illumina® TotalPrepTM-96 RNA Amplification Kit (Ambion, Austin, TX, USA) to produce biotinylated complementary RNA (cRNA), according to the manufacturer's instructions. The cRNA obtained was quantified using an ND-1000 Spectrophotometer (NanoDrop, Wilmington, DE, USA). The biotinylated cRNA was hybridized onto the Illumina Mouse WG-6 v2.0 Expression BeadChip (Illumina, Inc., San Diego, CA, USA) containing 45,281 probes representing 30,584 genes. After washing and staining, the BeadChip was scanned with the Illumina Bead Array Reader Confocal Scanner according to the manufacturer's instructions. Raw data were exported and analyzed using BeadStudio v3.1.3 (Gene Expression Module v3.3.8; Illumina). All the data analyses and visualization of differentially expressed genes were conducted using ArrayAssist® (Stratagene, La Jolla, CA, USA). Values are expressed as log2 fold change and were obtained by comparing the gene expression profiles of HFD-fed mice with those of ND-fed mice. Genes showing log2 fold change of ≥1 or ≤−1 (fold change of ≥2 or ≤−2) were selected, and functional analysis was performed using PANTHER database system (www.patherdb.org). Clustering analysis was performed using genes showing similar expression trends over time. MultiExperiment Viewer program was used to evaluate K-means algorism [22]. A gene cluster showing the highest fluctuation over time was selected, and biological processes associated with these HFD-responsive genes over time were analyzed using Database for Annotation, Visualization and Integrated Discovery (DAVID, https://david.ncifcrf.gov/) [23]. Virtual interaction network-targeted genes in the selected cluster were determined using Michigan Molecular Interactions software [24, 25]. In this network, genes that interacted with genes in the protein interaction data consolidated from seven public databases (Biomolecular Interaction Network Database [BIND], Database of Interacting Proteins [DIP], IntAct molecular interaction database [IntAct], Molecular INTeraction database [Mint], Reactome, CCSB Interactome Database [CCSB], and Human Protein Reference Database [HPRD]) were sorted [26–28] (Fig. 1).Fig. 1