Towards an open grapevine information system
ABSTRACT
---
Viticulture, like other fields of agriculture, is currently facing important challenges that will be addressed only through sustained, dedicated and coordinated research. Although the methods used in biology have evolved tremendously in recent years and now involve the routine production of large data sets of varied nature, in many domains of study, including grapevine research, there is a need to improve the findability, accessibility, interoperability and reusability (FAIR-ness) of these data. Considering the heterogeneous nature of the data produced, the transnational nature of the scientific community and the experience gained elsewhere, we have formed an open working group, in the framework of the International Grapevine Genome Program (www.vitaceae.org), to construct a coordinated federation of information systems holding grapevine data distributed around the world, providing an integrated set of interfaces supporting advanced data modeling, rich semantic integration and the next generation of data mining tools. To achieve this goal, it will be critical to develop, implement and adopt appropriate standards for data annotation and formatting. The development of this system, the GrapeIS, linking genotypes to phenotypes, and scientific research to agronomical and oeneological data, should provide new insights into grape biology, and allow the development of new varieties to meet the challenges of biotic and abiotic stress, environmental change, and consumer demand.
No MeSH data available.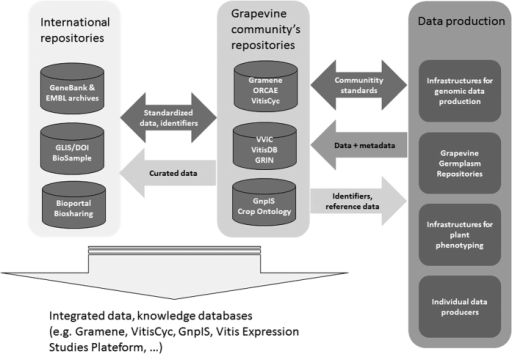 © Copyright Policy - open-access
License
getmorefigures.php?uid=PMC5120350&req=5
Mentions: Based on the present review of the practices and possibilities in terms of data management for grapevine, Figure 3 describes different categories of participants that could contribute to a GrapeIS, and the key relationships between them. The first category of participants are data producers, involved in nucleotide sequencing, metabolomics, proteomics, and phenotyping (increasingly using high-throughput platforms), germplasm repositories and individual laboratories. It is the responsibility of these groups to publish well-formatted data sets with complete metadata and well described measured variables to the second category of contributors, the data repositories. These vary from generically focused, international efforts (for example, Genesys for genetic resources, EMBL and NCBI archives for various genomic data, see Figure 3) to smaller, community-maintained repositories, focused on grapevine-specific problems or national datasets32,45,47–50 (Figure 3).